Decadent Oyster Loaf
Winter 2020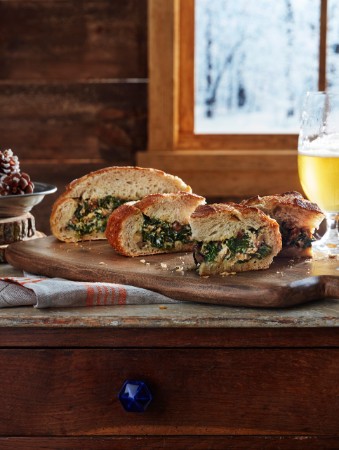 Decadent Oyster Loaf
Winter 2020
BY: Signe Langford
Not to be confused with that classic of the Deep South—the oyster po' boy sandwich—an oyster loaf is more of an oyster casserole baked in a delicious, buttery, edible vessel. It's an old-fashioned idea we think is due for a revival! In a nod to how important oysters were—and still are—to San Franciscan cuisine, we're using a crusty sourdough boule, but any good country loaf will do. Each slice is as rich and filling as pâté en croute, so one little loaf goes a long way. If you're not a proficient oyster shucker, ask your fishmonger to sell you a tub of shucked oysters.
45 standard PEI oysters, shucked and drained; juices can be saved—frozen—and used in a chowder
3 tbsp (45 mL) butter, divided, plus a little more for greasing the boule and baking dish
1 small to medium (500 g) sourdough boule
2 shallots, finely chopped
8 cups (2 L) baby spinach
¾ cup (175 mL) peeled, roasted chestnuts, coarsely chopped (or a 100-g bag)
½ cup (125 mL) finely chopped fresh chives
¼ cup (60 mL) finely chopped flat-leaf parsley
1 tsp (5 mL) sea salt
1 tsp (5 mL) white pepper
¼ cup (60 mL) Marsala
½ cup (125 mL) 35% cream
Pinch freshly grated nutmeg
2 free-run eggs, lightly beaten
1. Shuck oysters into a sieve set over a bowl to drain; reserve the oyster liquor, if desired, for another use.
2. Butter an ovenproof dish big enough to hold the boule.
3. Slice the top or dome off of the boule; set aside. Dig out the crumb from the loaf and reserve. Leave a wall about 1-inch (2.5-cm) thick. Set into the buttered baking dish. Using a butter knife or fingers, lightly butter the inside of the loaf; set aside.
4. Into a large skillet over low heat, add 2 tbsp (30 mL) of the butter and the shallots; stirring often, cook until the shallots are translucent and softened; about 10 minutes.
5. Increase heat to medium, add the spinach, chestnuts, chives, parsley, salt and pepper; cook, stirring often until the spinach has completely wilted and its released liquid has evaporated—about 10 minutes.
6. Add the oysters and 1 cup (250 mL) of the reserved sourdough bread crumbs; stir to combine.
7. Stir in the Marsala and allow the alcohol to steam off for about 30 seconds, reduce heat back to low, add the cream and nutmeg, stirring often, allow to simmer until thickened somewhat—about 4 to 5 minutes.
8. Remove from heat and allow to cool for about 10 minutes; stirring it every so often will help it cool faster.
9. Preheat oven to 350°F (180°C).
10. Once the oyster and spinach mixture has cooled enough to touch, add the beaten eggs and quickly stir to combine. Try a drop of egg first, if it scrambles, the mixture is still too hot.
11. Transfer the filling into the boule bowl, then replace the "lid." Melt remaining 1 tbsp (15 mL) of butter and brush over the top.
12. Bake for 50 to 60 minutes, or until the top is golden and the custard set. Set aside for about 30 minutes to an hour before slicing; the super-rich filling needs to cool to hold together when sliced. It's also great eaten cool or room temperature the next day.
SHARE