Decadent Chocolate Fruit Tart
Été 2019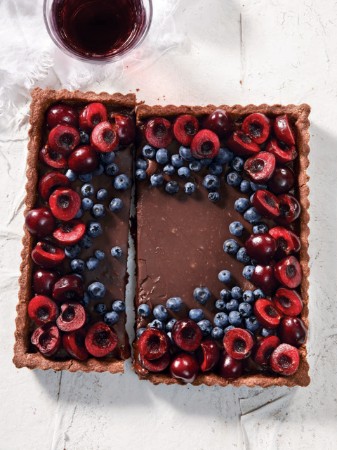 Decadent Chocolate Fruit Tart
Été 2019
BY: Christopher St. Onge
This is for the chocolate lovers. If you don't have kirsch on hand, don't sweat it too much. If you do, by all means use it to flavour the filling—it carries the cherry flavour throughout. Find the coolest spot in your house to let the tart set—but not in your fridge! Drastic changes in temperature would likely cause condensation on top of your tart and ruin your hard work. The proportions here work in a 10-inch (25-cm) round tart tin as well.
CRUST
1 cup (250 mL) all-purpose flour
¼ cup (60 mL) toasted and skinned hazelnuts
¼ cup (60 mL) sugar
¼ cup (60 mL) cocoa powder
¼ tsp (1 mL) salt
½ cup (125 mL, 1 stick) cold unsalted butter cut into chunks, plus extra for greasing tin
1 egg yolk, lightly beaten

3 tbsp (45 mL) cherry jam
½ cup (125 mL) whipping cream
10 oz (285 g) milk chocolate, chopped
1 tbsp (15 mL) kirsch (optional)
24 cherries, halved and pitted
½ cup (125 mL) blueberries
1 For the crust, preheat oven to 350°F (180°C).

2 Combine flour, hazelnuts, sugar, cocoa powder and salt in a food processor; pulse until hazelnuts are finely chopped. Add butter and process until mixture resembles coarse meal. With motor running add yolk through feed tube and combine.

3 Tip mixture into a lightly buttered 9-inch (23-cm) square tart tin with removable bottom. Press into bottom and up sides of pan (if dough sticks to fingers, use a sheet of plastic wrap between the dough and your fingers). Prick bottom all over with a fork; line with parchment and fill with pie weights (or dried beans); place tin in freezer for 20 minutes. Bake in preheated oven for 20 minutes. Remove weights and parchment and return to_ oven for an additional 20 minutes. Remove to a rack; cool completely.

4 Using a small offset spatula, spread jam in an even layer over bottom crust. Heat cream in a small pot over medium heat. Once bubbling, remove from heat and add chocolate; stir until chocolate is melted and mixture is glossy. Stir in kirsch if using. Scrape into prepared tart shell and smooth. Let firm at cool room temperature (not in fridge) for at least 2 hours before serving.

5 When ready to serve, decoratively arrange cherries and blueberries overtop.
SHARE