Cucumber & Cider Smash
Early Summer 2019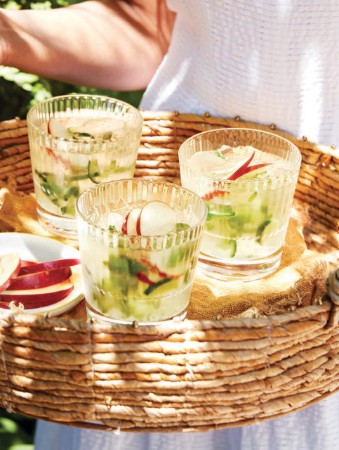 Cucumber & Cider Smash
Early Summer 2019
BY: Victoria Walsh
The taste of crisp, fresh, melon-like local cucumber signals the arrival of summer. Give it a smash with fresh mint for a fantastic cocktail. Choose your cider according to your sweetness preference.
½ oz Simple Syrup (recipe follows)
6 mint leaves
3 cucumber slices
½ oz freshly squeezed lime juice
6 oz dry cider, chilled
A cucumber wheel or apple slices, for garnish (optional)
1 Pour syrup into a rocks glass. If cider is sweet you may want to reduce amount of syrup. Add mint and cucumber. Using a muddler or the back of a wooden spoon, muddle a few times, extracting flavour and rubbing ingredients around the interior of the glass. Add lime juice. Fill with ice. Slowly add cider, stirring as you add. Garnish with cucumber wheel or apple slices.
Simple Syrup
Bring 1 cup (250 mL) water to a boil in a small saucepan. Add 1 cup (250 mL) granulated sugar. Stir until dissolved. Remove from heat. Let cool completely. Syrup will keep stored in a resealable container in the fridge for at least 2 weeks.
Makes 1½ cups (375 mL) syrup
SHARE