Creamy Citrus Linguine with Prosciutto
Holiday 2013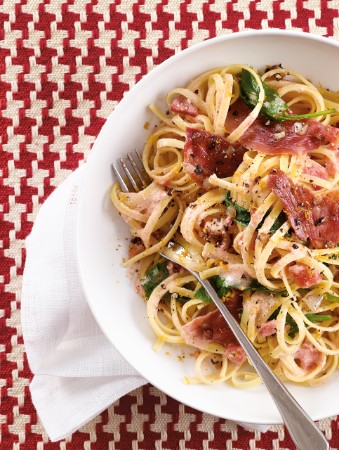 Creamy Citrus Linguine with Prosciutto
Holiday 2013
BY: Kristen Eppich
Orange juice and zest add an unexpected layer of flavour to this luxurious dish that's worthy of both family and guests.
12 oz (375 g) linguine
2 tbsp (30 mL) unsalted butter
3 oz (90 g) thinly sliced prosciutto, torn into large pieces
2 tsp (10 mL) chopped garlic
2 tbsp (30 mL) chopped shallots
2 cups (500 mL) packed baby spinach
½ cup (125 mL) crumbled goat cheese
1 cup (250 mL) chopped canned tomatoes, preferably San Marzano
¼ cup (60 mL) fresh orange juice
1 tsp (5 mL) finely grated orange zest
1/3 cup (80 mL) whipping cream
Salt and freshly ground pepper
1 Bring a large pot of salted water to a boil. Cook pasta according to package directions until slightly firmer than al dente, about 10 minutes. Drain and reserve ¼ cup (60 mL) pasta water. Set aside.

2 Melt butter in a large nonstick skillet over medium-high. Add prosciutto, garlic and shallots. Cook until vegetables are tender and prosciutto is browned, about 3 minutes. Stir in spinach and goat cheese and cook for 1 minute longer, or until spinach is wilted and cheese is creamy.

3 Add tomatoes, orange juice, orange zest and cream. Bring to a boil, then simmer for 5 minutes or until slightly thickened. Add linguine and stir until coated. Add reserved pasta water by the tablespoon (15 mL) as needed to help sauce coat the linguine. Season with salt and pepper.

4 Divide pasta among bowls and sprinkle with more freshly ground black pepper.
SHARE