Cranberry Drizzle
Holiday 2020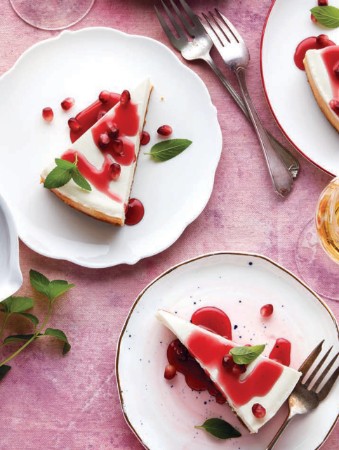 Cranberry Drizzle
Holiday 2020
BY: Joanne Yolles
Drizzle the cheesecake with this bright and flavourful syrup made so easily with just a few ingredients. You can change up the flavour by using pomegranate or cherry juice, or by combining juices to your liking. The syrup can be made well ahead and used with so many things such as pancakes, waffles, ice cream and more.
2 cups (250 mL) cranberry juice
1/2 cup (125 mL) sugar
2 tbsp (30 mL) light corn syrup
Pomegranate seeds for garnish
1. Combine cranberry juice, sugar and light corn syrup in a medium saucepan and bring to a simmer. Continue simmering until the mixture is thickened and reduced to a generous 1/2 cup (125 mL). The syrup will measure between 240° to 245°F (116° to 118°C) on an instant-read thermometer. Cool completely. The syrup can be prepared a week ahead, covered and stored in the fridge. Bring to room temperature before drizzling on the cake. Garnish each serving with pomegranate seeds.
Makes about 1/2 cup (125 mL)
SHARE