Corned Beef with Cabbage
Holiday 2016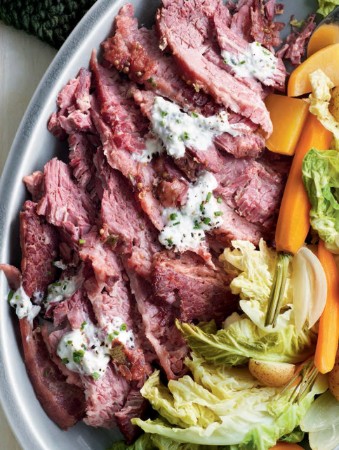 Corned Beef with Cabbage
Holiday 2016
BY: Lucy Waverman
At this time of the year, many butchers make excellent corned or spiced beef. Buy the double brisket—it has more fat and you get a juicier result. Single briskets are leaner but not as tasty. The meat is raw but brined when you buy it. You can make this in stages because this dish reheats exceptionally well. Add in other vegetables you like such as parsnips or kohlrabi.
4 lbs (2 kg) uncooked corned beef
1 can (473 mL) beer
Water to cover

VEGETABLES
1 Savoy cabbage, cut into eighths through the core
1 small rutabaga, peeled and cut in chunks
1½ lbs (750 g) small red potatoes
1 lb (500 g) small carrots, peeled
2 onions, thickly sliced
Salt and freshly ground pepper
1 Preheat oven to 300°F (150°C).

2 Place beef in a large ovenproof pot. Pour over beer and add enough water to cover brisket. Bake for about 3 hours (45 minutes per pound) or until meat is fork-tender. Alternatively, if you don't have oven space, simmer on top of the stove for the same amount of time.

3 Remove meat to a baking sheet and cover until ready to use. The meat can be prepared up to 5 days ahead of time.

4 Place pot with broth from brisket over medium heat. Add cabbage, rutabaga, potatoes, carrots and onions and simmer until vegetables are tender, about 35 to 45 minutes. Drain well, reserving 1 cup (250 mL) broth for step 6. If not serving immediately, reserve cooked vegetables and broth together. The vegetables can be prepared up to 3 days ahead of time. When ready to reheat, simmer vegetables in broth on top of the stove for 15 to 20 minutes or until hot, then drain (reserving 1 cup/250 mL broth). Season with salt and pepper.

5 When nearly ready to serve, preheat oven to 375°F (190°C) and reheat beef, uncovered for 15 to 20 minutes or until hot.

6 Slice beef and lay on a platter. Surround with vegetables and moisten with a little reserved broth. Serve with Horseradish Cream (recipe follows).
This may be made up to two days in advance. I like to add the fresh horseradish just before serving to give a real punch to the sauce.

½ cup (125 mL) Greek yogurt
¼ cup (60 mL) whipping cream
2 tbsp (30 mL) prepared horseradish (or more to taste)
2 tbsp (30 mL) grated fresh horseradish
2 tbsp (30 mL) chopped chives
Salt and freshly ground pepper
1 Combine all ingredients. Serve with the corned beef.
Makes about ¾ cup (175 mL)
SHARE