Coffee Frappe
Temps des Fêtes 2004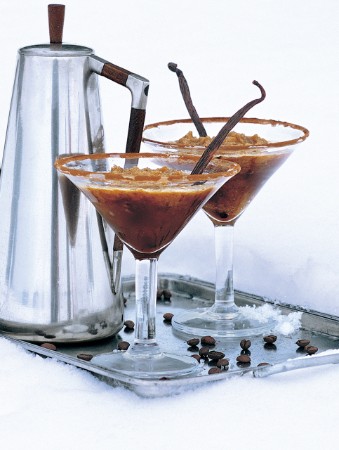 Coffee Frappe
Temps des Fêtes 2004
BY: Michelle P. E. Hunt and Laura Panter
The perfect dessert alternative or late-night sipper combines vanilla and rich coffee flavours in an unforgettable taste sensation.
10 oz coffee, cold and strong
4 oz Kahlúa
1 oz vanilla vodka
2 oz milk or cream
Cocoa
1. To a pitcher, add cold strong coffee and Kahlúa. Stir to mix. Pour into a 14-cube ice cube tray (approximately ¾ oz to 1 oz per cube). Freeze for at least 2 hours, or overnight.

2. To a blender, add vanilla vodka, milk or cream and 5 cubes. Blend until slushy (about 10 seconds).

3. Pour into a Martini glass and sprinkle with cocoa, if desired.
SHARE