Coffee Crème Brûlée with Ouzo Pistachio Tuile
Spring 2016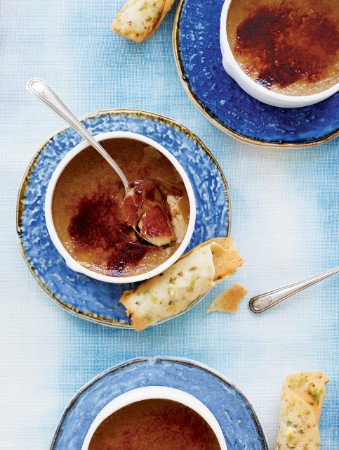 Coffee Crème Brûlée with Ouzo Pistachio Tuile
Spring 2016
BY: Christopher St. Onge
This delicious crème brûlée celebrates the Greek love of strong coffee. The licorice-scented tuile perfectly complements the pleasing bitterness of the custard.
COFFEE CRÈME BRÛLÉE
10 egg yolks
1 tsp (5 mL) vanilla extract
½ cup (125 mL) sugar
4 cups (1 L) 18% cream
3 tbsp (45 mL) instant espresso powder

OUZO PISTACHIO TUILE
2 egg whites
2 tbsp (30 mL) ouzo
⅓ cup (80 mL) sugar
Pinch salt
3 tbsp (45 mL) unsalted butter, melted
2 tbsp (30 mL) flour
⅓ cup (80 mL) finely chopped, unsalted pistachios

¼ cup (60 mL) superfine sugar
1 Preheat oven to 325°F (160°C).

2 In a large, heatproof bowl, whisk together egg yolks, vanilla extract and sugar; set aside.

3 Bring cream to a simmer over medium heat in a large saucepan; sprinkle instant espresso over and whisk to dissolve. Slowly drizzle cream mixture over egg mixture, whisking constantly. Strain through a fine mesh sieve and divide between ten 6-oz (175-mL) ramekins.

4 Arrange ramekins in a large deep roasting tin or two 9-inch (23-cm) round cake tins. Pour enough hot water in pan to come two-thirds up the side of the ramekins. Bake for 20 to 25 minutes or until softly set. Remove crème brûlées from the pan and refrigerate, covered, for at least 3 hours, or overnight (crème brûlées may be made up to 2 days in advance).

5 For the tuiles, increase oven to 350°F (180°C).

6 In a medium bowl, whisk together egg whites, ouzo, sugar and salt. Follow with butter, then flour, then pistachios. Using 1 tbsp (15 mL) batter at a time, drop onto a parchment-lined baking sheet and form into 3-inch (8-cm) circles, 1 inch (2.5 cm) apart. Bake for 10 to 12 minutes or until golden; using a long wooden spoon, wrap warm tuiles, one at a time and smooth-side down, around handle to form tight cylinders. Remove to a rack to cool. Repeat with remaining batter to make 10 tuiles (tuiles will keep for a week, tightly covered, at room temperature).

7 To serve, sprinkle chilled custards with an even, thin layer of superfine sugar, a little more than 1 tsp (5 mL) each. Using a kitchen blowtorch(or broiler), melt and caramelize the sugar on each; serve immediately accompanied by tuiles.
SHARE