Coconut-Lemon Macaroons
Hiver 2015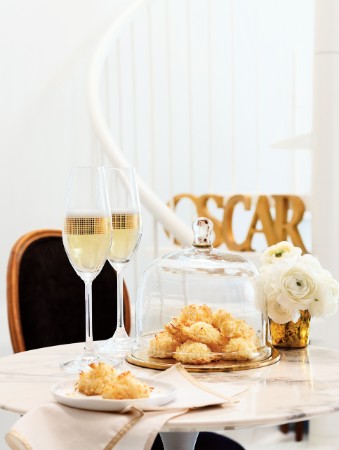 Coconut-Lemon Macaroons
Hiver 2015
BY: Amy Rosen
A citrus twist gives these sweet macaroons a pie-like vibe, while the finishing touch of salt makes them as addictive as cookies. Swap out the lemon for lime if you wish. There's a bit of delicious oozing at the bottom of the macaroons, but those caramelized bits were my guests' favourite part! If you want picture perfect macaroons, simply snip around the bottoms to trim.
1 egg white
2 tbsp (30 mL) lemon zest
½ cup (125 mL) sweetened condensed milk
2 cups (500 mL) sweetened shredded coconut
Pinch coarse sea salt
1 Preheat oven to 325°F (160°C).

2 Whisk together egg white, zest and sweetened condensed milk. Stir in coconut until thoroughly combined.

3 Line a cookie sheet with parchment paper. Spoon 12 heaping tablespoons of coconut mixture, each placed 1 inch (2.5 cm) apart, on cookie sheet. Sprinkle with salt. Bake the macaroons until golden, about 20 minutes, and let cool completely before serving. Lovely served with vanilla ice cream or lemon gelato.
SHARE