Classic Mojito
Summer 2013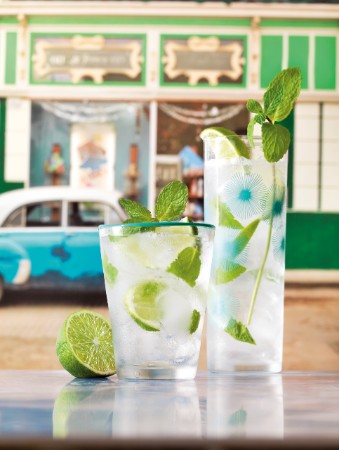 Classic Mojito
Summer 2013
BY: Michelle P. E. Hunt and Laura Panter
Once you master the delicate balance of lime, sugar and mint, you'll find creating this cocktail is a breeze—and your friends will love you for it! Try pairing it with a dish of Spanish Gambas al Ajillo (Shrimp with Garlic & Chili Peppers).
To a highball glass, add 4 lime wedges (½ a lime), ½ oz simple syrup* and 10 mint leaves, torn. Muddle (but do not mash). Fill the glass with ice and add 1½ oz Anejo Blanco Rum. Add more ice and stir to mix. Top with a splash of soda and garnish with a lime wedge and a mint sprig.



*Simple Syrup: Combine equal parts boiling water and sugar, and stir until sugar is dissolved. Store in refrigerator until chilled.
SHARE