Classic Apple Crisp
Autumn 2020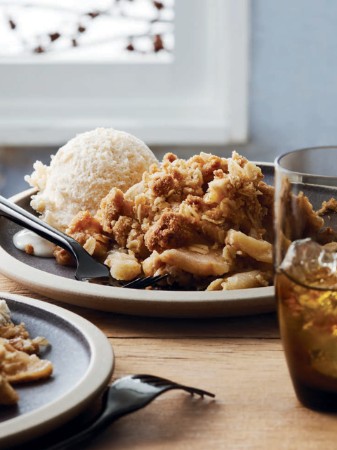 Classic Apple Crisp
Autumn 2020
BY: Eric Vellend
Fragrant with cinnamon and orange, this old-school apple crisp benefits from a clever trick gleaned from Julia Child. A portion of the topping goes underneath the apples, which absorbs the juices and turns into a gooey delight.
TOPPING
½ cup (125 mL) all-purpose flour
½ cup (125 mL) whole-wheat flour
1 cup (250 mL) light brown sugar, packed
¼ tsp (1 mL) fine sea salt
6 oz (170 g) unsalted butter, frozen, plus extra for greasing dish
1½ cups (375 mL) rolled oats
APPLES

5 lbs (2.27 kg) baking apples (Mutsu, Jonagold, Granny Smith)
2 tbsp (30 mL) fresh lemon juice
½ cup (125 mL) sugar
Finely grated zest of 1 large orange
½ tsp (2 mL) cinnamon
¼ tsp (1 mL) freshly grated nutmeg
Vanilla ice cream for serving
1. Preheat oven to 350°F (180°F). Butter a 9 x 13 inch (23 x 33 cm) baking dish or another shallow 3-qt dish. Place it on a parchmentlined baking sheet.
2. To make the topping, combine flours, brown sugar and salt in a mixing bowl. Mix with hands to remove any lumps. Coarsely grate butter into bowl. Work with your hands until mixture resembles coarse meal. Stir in oats until evenly distributed. Cover and refrigerate while you prepare apples.
3. Peel, quarter, core and cut apples into ½-inch (1-cm) slices. Place in a large mixing bowl with lemon juice. Toss as you go to keep apples from oxidizing. When apples are done, add sugar, orange zest and spices. Toss to coat evenly.
4. Sprinkle one-third of topping into baking dish. Top with apples and arrange in even layer. Sprinkle remaining topping over apples. Bake on middle rack until apples are tender and topping is nicely browned, 60 to 75 minutes. (A paring knife inserted in centre should meet with little resistance.) Serve warm with vanilla ice cream.
SHARE