Citrus Ginger Blush (non-alcoholic)
Early Summer 2015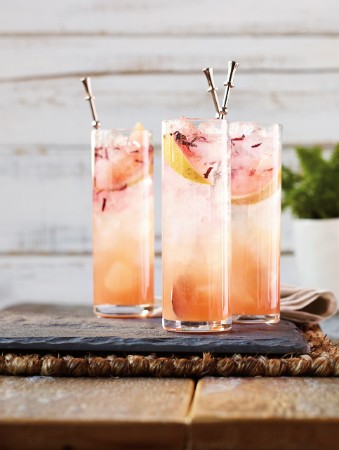 Citrus Ginger Blush (non-alcoholic)
Early Summer 2015
BY: Heather Trim
Citrus has been shown to have many positivehealth attributes and recently so have hibiscusflowers, available at health food stores.Not only is this drink refreshing, the hibiscusflowers give the drink a pretty pink blush.Hibiscusflowers make a great iced tea as well.
1 piece of ginger, 3 inches (8 cm) long
2 cups (500 mL) freshly squeezed orange juice,
about 3 to 4 oranges
1 cup (250 mL) freshly squeezed pink grapefruit
juice, about 1 to 2 grapefruits
¼ cup (60 mL) freshly squeezed lime juice,
about 2 limes
2 tsp (10 mL) crumbled hibiscus flowers
or hibiscus tea
Agave syrup or coconut sugar, optional
Sparkling water
Citrus twists for garnish
1 Wash ginger well; there is no need to peel.Grate it very finely, using a microplane or thevery small-holed side of a box grater. Placeginger in cheesecloth, then squeeze tightlyover a bowl to extract juice.

2 In a large measuring cup, stir orange juicewith grapefruit juice, lime juice and 4 tsp(20 mL) ginger juice. Stir in hibiscus flowers,saving a pinch. Let stand about 1 hour. Straininto a pitcher. Taste and stir in a little agaveif needed, as hibiscus flowers add tartness.Refrigerate. When ready to serve, pour intotall ice-filled glasses and top with sparklingwater. Garnish with a citrus twist and a pinchof hibiscus flowers.
SHARE