Citrus-Butter Bacon, Crab & Clam Pasta
Early Summer 2020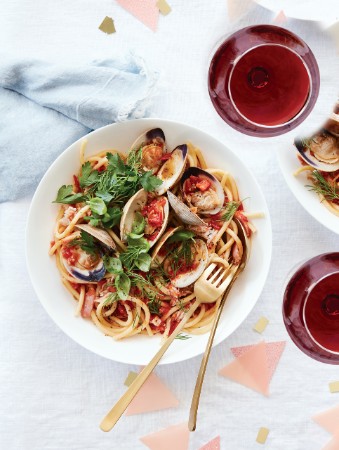 Citrus-Butter Bacon, Crab & Clam Pasta
Early Summer 2020
BY: Victoria Walsh
There's no long-simmered sauce here. The only tricky part of this straightforward pasta is timing. Be sure to follow along and you'll have a lightly sauced, citrus-laced, seafood-filled knockout dish for a special occasion.
1 tsp (5 mL) each freshly grated orange, lemon and lime zest
½ cup (125 mL) salted butter, softened
16 little neck clams, about 2 lbs (905 kg)
½ lb (225 g) bacon, cut into thin lardon strips 2 shallots, thinly sliced
½ tsp (2 mL) chili flakes
1 container (340 g) cherry or grape tomatoes, finely diced
¼ cup (60 mL) dry white wine
2 to 3 tbsp (30 to 45 mL) salt, preferably kosher
1 ½ lbs (680 g) bucatini or fettuccine
½ lb (225 g) crab meat, pressed with paper towels to remove excess moisture
Salt and freshly ground black pepper, to taste
2 cups (500 mL) whole leaf parsley, dill and/or baby basil, preferably a mix
1 In a medium bowl, stir zest into butter using a fork. Cover and refrigerate until firm.
2 Place clams in a medium bowl. Cover with fresh water. Let stand for 30 minutes. Pour off water and any grit and sand. Add more freshwater. Let stand for another 30 minutes. Scrub clean. Discard any broken or open ones that don't close with a good tap.
3 Bring a very large pot of water to a boil.
4 Meanwhile, set a very large skillet over medium heat. Add bacon. Cook, stirring occasionally until a little crisp, 10 to 15 minutes. Remove to paper towels. Pour off all but 2 tbsp (30 mL)of oil from pan. Add shallots. Sprinkle with chili flakes. Cook until shallot softens, about5 minutes. Add tomatoes. Cook until softened slightly, about 5 minutes. When hot, pour in wine. Bring to a simmer. Remove from heat.
5 When water is boiling, add enough salt so the water tastes of the sea. Cook pasta until almost al dente but a little underdone, 6 to8 minutes. (Be sure to shave a couple of minutes off the recommended cooking time.) For ideal results, remove 2 cups (500 mL) cooking water and set aside for reheating. Drain pasta well.
6 Return skillet with shallot-tomato mixture to medium-high heat. When simmering, add washed clams. Cover and cook until they open, 6 to 8 minutes. Discard any unopened ones. Using a slotted spoon, remove clams to a separate bowl.
7 Add pasta back into cooking pot. Set 2 tbsp(30 mL) citrus-butter mixture aside and crumble or cut remaining butter mixture into small pieces and scatter overtop of pasta. Set over medium heat. Add crab and bacon and scrape tomato-shallot mixture overtop. Pour in about 1 cup (250 mL) pasta water. Using tongs, gently toss to evenly mix. Stir in more pasta water, if needed, adding just enough to moisten. Cook over medium-high heat until warmed through and cooked to your liking. Finish by crumbling and stirring in remaining chilled butter so pasta is glossy. Taste and season with salt and pepper, to taste. Serve in pasta bowls, topped with clams and garnished with herbs.
SHARE