Cinnamon Citrus Warmer
Winter 2014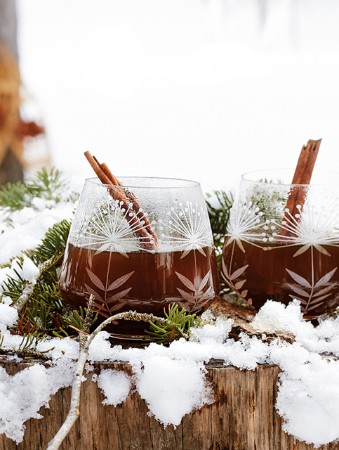 Cinnamon Citrus Warmer
Winter 2014
BY: Emily Richards
Fresh citrus and cinnamon combined with coffee make for a unique adult drink that is fit for any Thermos® or serving pot. Save the cinnamon sticks to use as garnish when serving. This drink will ease you into its citrusy flavour, then warm you up inside so you can enjoy the cold weather.
1 orange
1 lemon
3 cinnamon sticks
6 whole cloves
3 cups (750 mL) brewed coffee
1/3 cup (80 mL) packed light brown sugar (see TIP)
3 tbsp (45 mL) brandy, optional
1 Using a rasp or fine grater, remove rind from orange and lemon. Measure 1 tsp (5 mL) orange rind and ½ tsp (2 mL) lemon rind into a saucepan. Squeeze orange and lemon and measure 3 tbsp (45 mL) orange juice and 1 tbsp (15 mL) lemon juice into saucepan. Add cinnamon and cloves.

2 Pour coffee into saucepan and stir in sugar. Place over medium heat, stirring occasionally for about 5 minutes or until sugar is dissolved and coffee mixture is steaming. Pour through strainer into an insulated container or teapot and stir in brandy to serve.

TIP You can add more sugar to taste as well as brandy if desired.
SHARE