Chunky Roasted Garlic & Tomato Soup
Holiday 2017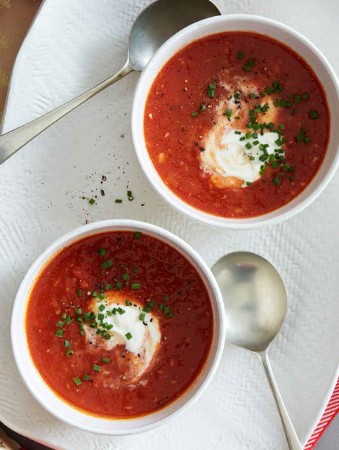 Chunky Roasted Garlic & Tomato Soup
Holiday 2017
BY: Michelle Rabin
Whether canned or made from scratch, tomato soup is a bowl full of comfort and nostalgia. We've elevated this childhood fave by roasting tomatoes until they caramelize with a dozen cloves of garlic. Topped with a dollop of rich crème fraiche and freshly chopped chives, this thick, fiery soup makes a perfect potluck dish; just reheat when ready to serve.
12 garlic cloves
3 lbs (1.5 kg) fresh Roma tomatoes, roughly chopped
2 shallots, thinly sliced
3 tbsp (45 mL) olive oil
1 tsp (5 mL) salt
3 tbsp (15 mL) red wine vinegar
4 cups (1 L) chicken stock
2 bay leaves
Salt and freshly ground pepper
½ cup (125 mL) crème fraîche
¼ cup (60 mL) finely sliced chives
1 Preheat oven to 375°F (190°C).
2 Using the side of your knife or the palm of your hand, smash the garlic cloves. Place smashed cloves, tomatoes and shallots on a baking sheet in a single layer. Drizzle olive oil over and season with salt. Place in centre of the oven and roast until tomatoes are shrivelled and garlic is beginning to brown, about 35 minutes, stirring every 10 minutes.
3 Remove from oven and immediately drizzle red wine vinegar over tomatoes. Transfer mixture to a large pot. Add in chicken stock and bay leaves and heat over high. Bring mixture to boil and then reduce heat to medium-low. Continue to cook until vegetables are tender, about 20 minutes.
4 Pulse an immersion blender in the soup. Partially blend so that most of the soup is puréed but chunks of tomato and garlic are left intact. Season with salt and pepper.
5 Divide soup among bowls. Garnish with a dollop of crème fraîche and sprinkle over chives.
SHARE