Chocolate & Peanut Butter Haystack Cookies
Holiday 2019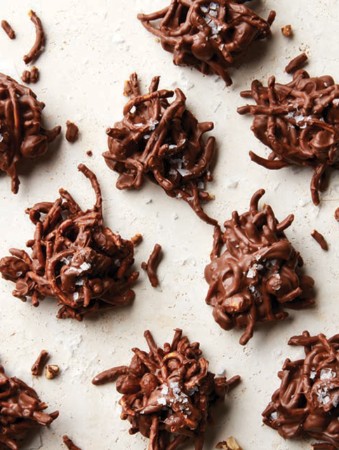 Chocolate & Peanut Butter Haystack Cookies
Holiday 2019
BY: Eric Vellend
The salty-sweet combination of peanut butter and chocolate is even more irresistible in these easy, no-bake clusters. Not to be confused with stir-fry noodles, the chow mein noodles in this recipe are the short, crunchy, ready-to-eat variety. Typically used to garnish soups and salads, they're available at Bulk Barn.
¾ cup (175 mL) semi-sweet chocolate chips
¾ cup (175 mL) peanut butter chips
1 ½ cups (375 mL) chow mein noodles
½ cup (125 mL) roasted salted peanuts
Maldon salt
1 Line a baking tray with parchment paper.
2 Combine chocolate chips and peanut butter chips in a large stainless steel bowl. Choose a pot that the bowl will fit snuggly over. Pour about 1 inch (2.5 cm) water in the pot and place it over medium heat. Place bowl over pot. Stir with a silicone spatula until chips have melted and mixture is smooth. Remove bowl from heat.
3 Fold in noodles and peanuts until evenly coated in chocolate. Drop ¼ cup (60 mL) portions on tray. Top each with a pinch of Maldon. Cool until chocolate has firmed up.
4 Layer cookies between parchment paper in an airtight container. Store in a cool dry place or refrigerate. Cookies will keep for 1 week.
SHARE