Chilled Orecchiette Salad
Early Summer 2019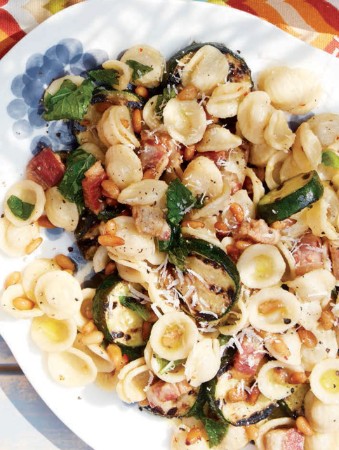 Chilled Orecchiette Salad
Early Summer 2019
BY: Christopher St. Onge
I love orecchiette's toothsome texture as much in a good pasta salad as I do warm and sauced. Salt your cooking water a little more aggressively than usual here to give your salad a well-seasoned foundation. And think ahead when using that grill—the zucchini can be knocked off the prep list the night before you plan to serve your salad.
10 oz (285 g) dried orecchiette
½ cup plus 2 tbsp (125 mL plus 30 mL) olive oil, divided
3 oz (85 g) pancetta, cut into
½-inch (1-cm) dice
2 medium zucchinis, about 1 lb (455 g)
Salt and freshly ground black pepper
1 tbsp (15 mL) lemon zest
2 tbsp (30 mL) lemon juice
¼ tsp (1 mL) chili flakes
¼ cup (60 mL) pine nuts, toasted
½ cup (125 mL) torn mint leaves, loosely packed
½ cup (125 mL) finely grated Parmesan
1 Cook orecchiette in plenty of salted boiling water until al dente; drain (but do not rinse). Spread out on a baking sheet and while still hot, drizzle with ¼ cup (60 mL) of the oil; stir to coat and let cool to room temperature.

2 Meanwhile, fry the pancetta in a skillet over medium heat, stirring often, until crisp, 4 to 5 minutes. Remove with a slotted spoon and add to a large salad bowl; discard fat.

3 Slice zucchini into ½-inch thick (1-cm) rounds; toss with 2 tbsp (30 ml) oil and season with salt and pepper. Grill over high heat until deep golden, 3 to 4 minutes per side; add to the salad bowl along with the orecchiette, remaining ¼ cup (60 mL) olive oil, lemon zest and juice, chilli flakes and pine nuts. Season with salt and pepper to taste, toss and refrigerate until ready to serve (salad may be made to this point up to 3 days in advance).

4 When ready to eat, toss salad with the mint and Parmesan, taste and adjust seasoning if necessary.
SHARE