Chickpea Salad with Grilled Chorizo and Salsa Rosso
Early Summer 2018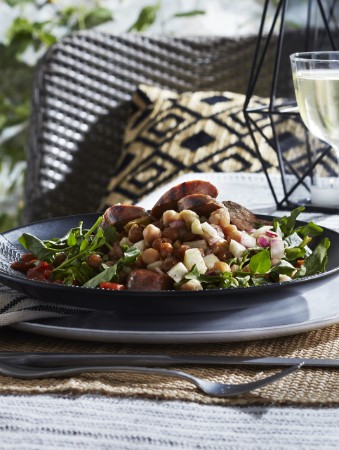 Chickpea Salad with Grilled Chorizo and Salsa Rosso
Early Summer 2018
BY: Lucy Waverman
This savoury salad mix nicely complements the chorizo. Either stir in the sausages or serve them on top. The salad is make-ahead, as is the salsa, and you can serve the sausages either hot or cold. If chorizo is not available, use hot Italian sausage. Roasting half the chickpeas gives the salad a more interesting texture.
SALSA ROSSO
2 tbsp (30 mL) olive oil
½ cup (125 mL) chopped red onion
1 tbsp (15 mL) harissa
1 tsp (5 mL) chopped garlic
3 cups (750 mL) diced tomato, about 2 large
1 tbsp (15 mL) lemon juice
Salt and freshly ground pepper

CHICKPEA SALAD WITH GRILLED CHORIZO
1 can (540 mL) chickpeas, rinsed and drained
¼ cup (60 mL) olive oil, divided
1 tsp (5 mL) ground coriander
1 tsp (5 mL) ground cumin
1½ cups (375 mL) diced fennel
1 cup (250 mL) diced red onion
¼ cup (60 mL) pitted green olives
½ tsp (2 mL) ground fennel
1 tbsp (15 mL) lemon juice
3 chorizo sausages, about 1 lb (455 g)
2 cups (500 mL) watercress or arugula
1 Heat oil in a saucepan over medium heat. Add onion and cook until softened, about 3 minutes. Add harissa and garlic and cook until fragrant, about 1 minute. Add tomatoes, bring to boil, then reduce to medium-low and simmer until very soft and slightly thickened, about 15 minutes. Remove from heat, stir in lemon juice and season with salt and pepper. Cool completely.

2 Preheat oven to 400°F (200°C).

3 Place chickpeas on paper towel and dry off well. Line a baking sheet with parchment paper. Toss 1 cup (250 mL) chickpeas with 2 tbsp (30 mL) oil, coriander and cumin. Season with salt and pepper. Place chickpea mixture on prepared baking sheet and roast until crispy and golden, about 20 minutes, shaking the pan occasionally. Cool completely.
4 Combine roasted chickpeas with remaining 1 cup (250 mL) canned chickpeas, diced fennel, red onion, olives, remaining 2 tbsp (30 mL) olive oil, ground fennel and lemon juice. Season to taste with additional salt and pepper. Reserve.
5 Grill the sausages on medium heat until they are cooked through, about 8 to 10 minutes. Slice into rounds on a bias.

6 Spread the salsa rosso on a flat plate. Arrange watercress over the salsa and top with the chickpea salad. Scatter over the warm chorizo.
SHARE