Chicken, Spinach & Feta Pie
Winter 2020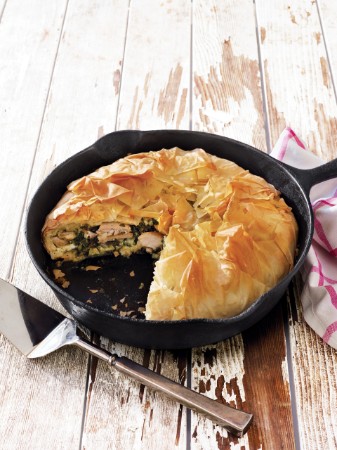 Chicken, Spinach & Feta Pie
Winter 2020
BY: Lucy Waverman
This dish is excellent hot or cold. It slices beautifully and makes a perfect lunch or brunch dish. Omit the chicken for a vegetarian take. If using a 12-inch (30-cm) skillet, you will need a total of 10 sheets of phyllo. The cast iron bakes the underside of the phyllo, which avoids sogginess. Always keep phyllo covered as you work with it. Serve with a tomato and cucumber salad.
2 tbsp (30 mL) butter
1 cup (250 mL) chopped onions
2 garlic cloves, thinly sliced
10 oz container baby spinach, or 8 packed cups (2 L) spinach leaves, coarsely chopped
1 cup (250 mL) crumbled feta cheese
½ cup (125 mL) ricotta cheese
3 tbsp (45 mL) chopped dill
¼ tsp (1 mL) chili flakes
Salt and freshly ground pepper
½ cup (125 mL) Greek yogurt
2 eggs, beaten

CHICKEN
1 tbsp (15 mL) olive oil
1½ lbs (680 g) skinless boneless chicken thighs, cut into 1½ inch (4 cm) chunks
1 tsp (5 mL) grated lemon zest
1 tbsp (15 mL) lemon juice
2 tbsp (30 mL) chopped parsley
⅓ cup (80 mL) unsalted butter, melted
9 to 10 sheets phyllo
1 Arrange oven rack in lower third. Preheat oven to 375°F (190°C).

2 Heat butter over medium heat in a cast iron 10- to 12-inch (25- to 30-cm) pan. Add onions and garlic and sauté until softened, about 3 minutes. Add spinach, a handful at a time, until just wilted, about 1 minute. Stir in feta, ricotta, dill and chili flakes and cook until feta begins to melt, about 1 minute. Season well with salt and pepper. Transfer to a large bowl to cool slightly. Stir in the yogurt and eggs.

3 Wipe out the pan and reheat over medium-high heat. Add the oil. Season chicken with salt and pepper and add to the pan. Working in 2 batches, sear on each side until golden, about 2 minutes a side. The chicken will not be cooked through. Add lemon zest, juice and parsley to the chicken, stir together and remove to a plate. Cool slightly.

4 Wipe out the pan well and brush with some melted butter. Lay sheets of phyllo on a work surface and cover with a towel. Brush 1 sheet of phyllo with butter and centre in pan so that the ends drape over the sides with overhang on both sides. Repeat, layering 7 more buttered sheets of phyllo, crisscrossing the layers until the pan is completely draped with phyllo.

5 Add half the spinach mixture then top with the chicken. Spread over the remaining spinach mixture. Brush remaining 1 to 2 sheets of phyllo with butter and drape over top of filling. Lift the edges of the overhanging phyllo into the pan, press flat and brush with remaining butter. Bake in lower third of the oven until the sides of the pie are crisp and filling is bubbling, about 35 to 45 minutes. Rotate midway. Cover pie with a piece of parchment if top is browning too quickly.

6 Cool in the pan for 10 minutes. Cut into wedges in the pan or, for a spectacular presentation, invert onto a large plate, cover with a second plate and reverse so that the ruffled side is up.
COOKING WITH CAST IRON
Renowned for producing flavours and textures no other pans provide, cast iron merits this quick guide to mastering its secrets.
SEASONING
Cast iron pans must be seasoned. Most pans today come pre-treated, but do it again. Wash the pan with a little water and dry well. Soak a paper towel with vegetable oil and rub all over the pan. Keep swabbing until the pan has a sheen. Heat the oven to 350°F (180°C). Place the pan upside down on the middle oven rack (put some foil on the rack below to catch any drips) and bake for 1 hour. Turn off the heat and let the pan cool down inside the oven. It is now ready for cooking.
SIZE
If you buy only one pan then buy a 10-inch (25-cm) pan. A 12-inch (30-cm) pan is a good size for big steaks and vegetables.

SAFETY
Remember to cover the handle when you take it out of the oven to avoid burning your hand.
WASHING
Wash with warm soapy water and dry immediately. Coat with a little oil the first few times you use it.
SHARE