Cheesy Asparagus Frittata with Dilled Aïoli
Early Summer 2014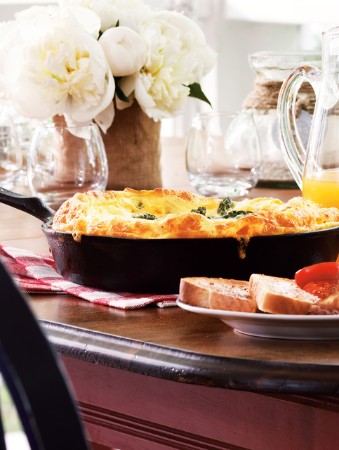 Cheesy Asparagus Frittata with Dilled Aïoli
Early Summer 2014
BY: Victoria Walsh
This beautiful brunch dish is sure to impress guests. If you want to make it even easier on yourself, blanch the asparagus in advance (see TIP). You can also prepare the mayonnaise variation of aïoli in advance. Store in a covered container in the fridge for up to 3 days.
FRITTATA
12 large eggs
½ cup (125 mL) whipping cream
½ tsp (2 mL) grainy Dijon or 1 tsp (5 mL)regular Dijon mustard
⅛ tsp (0.5 mL) salt and freshly ground black pepper
1 tbsp (15 mL) butter
1 bunch thin asparagus, trimmed and blanched
5 oz (150 g) cheddar, coarsely crumbled

AÏOLI
2 to 3 tsp (10 to 15 mL) freshly squeezed lemon juice
1 large garlic clove, minced
1 cup (250 mL) extra virgin olive oil or ¾ cup (175 mL) mayonnaise
3 tbsp (45 mL) chopped fresh dill
Pinches of salt to taste
1 To prepare frittata, preheat oven to 400°F (200°C).

2 Crack eggs in a large bowl. If making traditional aïoli with olive oil, remove 1 yolk to a medium bowl. Cover and refrigerate for aïoli preparation. Add whipping cream, Dijon, salt and pepper to egg mixture in bowl. Whisk until evenly mixed. Melt butter in a very large ovenproof skillet set over medium heat, swirling so it coats sides. Alternatively, coat a 9 x13-inch (3-L) baking dish with butter. Add asparagus. If using a skillet, turn asparagus in butter to coat, then cook for 2 minutes. Pour in egg mixture. Cook until egg sets slightly on bottom. If using baking dish, pour in egg and carefully redistribute asparagus as needed. Scatter cheese over top. Bake in centre of pre-heated oven for 20 minutes until egg is set.

3 Meanwhile, prepare aïoli by whisking reserved egg yolk with lemon juice and garlic in a medium bowl. While whisking constantly, pour in olive oil very slowly. Aïoli should be thick and emulsified. If using mayonnaise, omit yolk and olive oil. Stir mayo with lemon juice and garlic. Stir dill (into either style of aïoli) until evenly mixed. Salt to taste.

4 Serve frittata with a dollop of aïoli alongside. Delicious served with sliced tomatoes, bacon and toast.

TIP To blanch asparagus, simply bring a large pan filled with salted water to a boil. Add asparagus. Cook for 2 minutes or just until tender. Immediately plunge into a bowl filled with ice and water. Let cool completely. Drain well. Pat dry. If making ahead, asparagus will keep well, covered and refrigerated for 1 to 2 days.
SHARE