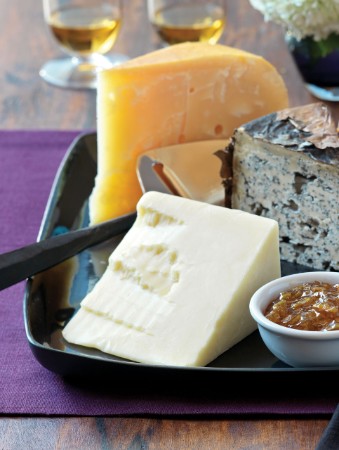 BY: Tonia Wilson-Vuksanovic
Create an interesting cheeseboard by incorporating flavour-packed cheeses along with both traditional and unexpected accompaniments. A good selection would be an aged Canadian cheddar, a Spanish blue cheese and a Dutch or Canadian aged Gouda.
7 oz (200 g) of each of 3 types of cheese A selection of grapes, apple slices, dried apricots and dates Good quality bread or crackers Whisky Orange Marmalade (recipe below) Candied Pecans (recipe below)

Whisky Orange Marmalade
This makes for a terrific hostess gift that is so simple to make. While the marmalade is still warm, place it in a pretty glass jar and finish with a ribbon.  
¼ cup (50 mL) whisky
¾ cup (175 mL) good-quality orange marmalade 
1 tsp (5 mL) vanilla extract
1. Place whisky in a small saucepan and boil for 2 minutes over high heat.
2. Add marmalade and cook for 2 more minutes over low heat until marmalade melts. Stir in vanilla off the heat, refrigerate and cool until thickened.

Candied Pecans
These nuts are addictive so the recipe allows extra for nibbling. Make them the day before to allow the flavours to develop.
¼ cup (50 mL) maple syrup
¼ cup (50 mL) corn syrup
3 tbsp (45 mL) sugar
1½ tsp (7 mL) salt
½ tsp (2 mL) ground allspice
½ tsp (2 mL) chili powder
½ tsp (2 mL) ground ginger
3 cups (750 mL) whole pecans
1. Preheat oven to 325°F (160°C).
2. Line baking sheet with parchment paper, or use aluminum foil and spray well with cooking spray.
3. In a large bowl stir together the maple syrup, corn syrup, sugar, salt, allspice, chili powder and ginger. Add pecans and stir to coat well. Pour coated nuts onto baking sheet. Bake in preheated oven for 5 minutes.
4. Remove from oven and toss nuts gently with a fork, spread evenly over baking sheet and return to oven. Continue to cook for 10 minutes.
5. When cool enough to touch break up any pieces that have stuck together. Once cooled keep in an airtight container until ready to use.
SHARE