Charred Broccoli & Spinach Fritters with Green Goddess Dressing
Holiday 2019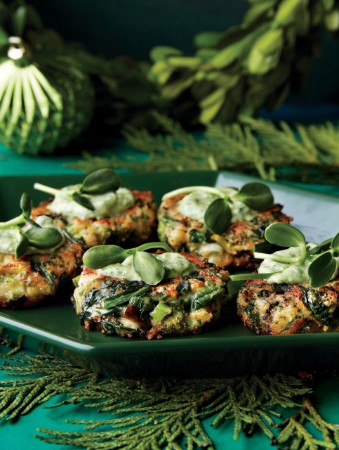 Charred Broccoli & Spinach Fritters with Green Goddess Dressing
Holiday 2019
BY: Eshun Mott
Roasted broccoli forms the base for these vegetarian green fritters with a classic comeback sauce. You can make the vegetable mixture ahead of time, but add the beaten egg just before frying. Serve on a platter as a passed hors d'oeuvre or plated as an appetizer.
FRITTERS
8 oz (225 g) broccoli florets and peeled stems
1 tbsp (15 mL) olive oil
Salt
4 oz (115 g) bunch spinach with stems, well washed
2 large eggs
1 cup (250 mL) finely grated sharp white cheddar cheese
¾ cup (175 g) fresh bread crumbs
½ cup (125 mL) chopped green onion
2 tsp (10 mL) chopped garlic
Salt and pepper
Vegetable oil for frying
GREEN GODDESS DRESSING
½ cup (125 mL) mayonnaise
½ cup (125 mL) Italian parsley leaves
1 tbsp (15 mL) fresh lemon juice
½ tsp (2 mL) chopped garlic
½ tsp (2 mL) chopped anchovy
Sunflower sprouts for garnish
1 Preheat oven to 450°F (230°C).
2 Toss broccoli florets with olive oil and salt and lay on a baking sheet. Roast for 18 minutes or until tender and lightly browned. Let cool slightly then coarsely chop. Set aside.
3 Heat a large frying pan on medium-low. Working with a handful at a time, add spinach to pan and cook until fully wilted. Let cool then squeeze out as much liquid as possible. Coarsely chop.
4 Whisk eggs with cheddar, bread crumbs, onions and garlic. Add broccoli and spinach and stir until combined. Season with salt and pepper.
5 Heat vegetable oil in a frying pan over medium-high. Gather about a ¼ cup (60 mL) scoop of mixture in your hand and form into a flattened round. Fry for about 3 minutes, turning once, or until golden and cooked through. Drain on paper towels and keep warm.
6 Combine mayonnaise, parsley, lemon juice, garlic and anchovy in a mini food processor and process until you have a uniform green sauce. Season with salt.
7 Top fritters with a smear of green goddess dressing and sprouts.
SHARE