Celtuce & Chicken Salad
Autumn 2019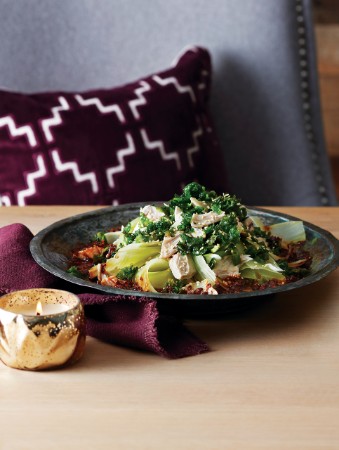 Celtuce & Chicken Salad
Autumn 2019
BY: Christopher St. Onge
Celtuce, or stem lettuce, is hot in restaurant kitchens right now. It looks a bit like bolted lettuce, only in reverse, with a long stem and a meager handful of leaves at the top. Typically the stem is eaten raw while the leaves are cooked and, more often than not, served separately. I combine them here in one salad with a classic Sichuan vinaigrette. It's bracingly salty and spicy—the perfect foil for the slippery, noodle-like ribbons of stem and crunchy fried leaves. You can find celtuce at Asian supermarkets.
2 cups (500 mL) water
1 tsp (5 mL) salt
1/2 small onion, skin-on, root end intact
Sprig cilantro
1 medium-size skin-on, bone-in chicken breast

SICHUAN DRESSING
1/4 cup (60 mL) Chinese light soy sauce or Japanese soy sauce
2 tsp (10 mL) Chinese black vinegar
1 tbsp (15 mL) sugar
2 cloves garlic, finely grated or chopped
3 tbsp (45 mL) Chinese chili oil with chili flakes
2 tsp (10 mL) sesame oil
1 lb (455 g) celtuce stems (about 2) and leaves
Peanut or canola oil for frying
Salt
1 green onion, finely sliced
2 tsp (10 mL) toasted sesame seeds
1 Combine water, salt, onion and cilantro in a medium saucepan. Bring to a boil over medium heat, add chicken and return to a boil. Lower heat to maintain a gentle simmer, cover and cook for 15 minutes. Remove pot from heat and let stand for 30 minutes. Refrigerate in poaching liquid overnight or until thoroughly chilled (chicken will keep for 3 days in fridge). 2 To make the Sichuan dressing, whisk together soy sauce, vinegar, sugar and garlic in a shallow serving bowl until sugar is dissolved. Spoon chili oil over, then sesame oil.

3 Remove the greens from the top of the celtuce stem; slice, wash and thoroughly dry. Set stems aside.

4 Heat a 1/2-inch (1-cm) depth of peanut oil in a small pot over medium heat. Once shimmering, add celtuce leaves and fry for 30 seconds or until dark green and crisp; remove with a slotted spoon to a paper-towel-lined plate. Season sparingly with salt.

5 Remove skin and bones from chilled chicken and tear into bite-sized pieces. (Keep the poaching liquid for another use if desired. Discard solids before storing in refrigerator or freezer.)

6 Peel celtuce stems and cut in half lengthwise; thinly slice on a mandolin (or alternatively use a peeler) and place on top of dressing in bowl or shallow platter. Top with the chicken pieces, green onion and fried leaves, Sprinkle with sesame seeds and serve straight away, encouraging guests to scoop up some of the dressing from the bottom of the bowl.
SHARE