Cedar-Planked Maple Trout Salad with Grilled Avocado
Summer 2019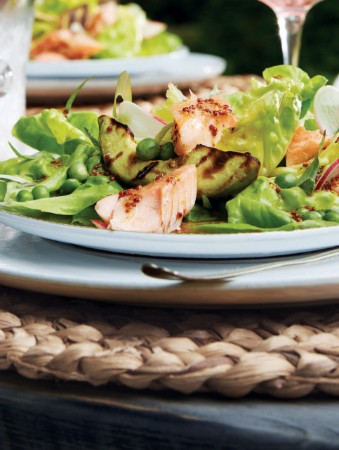 Cedar-Planked Maple Trout Salad with Grilled Avocado
Summer 2019
BY: Michelle Rabin
Brining allows fish or meat to absorb lots of flavour before it is cooked. A maple syrupand-salt mixture infuses loads of flavour into this recipe. Glazed with a thick layer of maple syrup, the rainbow trout fillet cooks gently on a cedar plank. Then it's flaked over grilled avocado, delicate leaves of Boston lettuce, radish and fresh shucked peas. Soft pinks and greens mingle to create a beautiful summer salad dressed in a maple-Dijon vinaigrette.
¼ cup (60 mL) kosher salt
¼ cup plus 2 tbsp (60 plus 30 mL) pure maple syrup
1 skin-on rainbow trout fillet, ⅔ lb (300 g)
1 large avocado, cut into 1-inch (2.5-cm) slices
2 tbsp (30 mL) lime juice

MAPLE DIJON DRESSING
2 tbsp (30 mL) grainy Dijon mustard
2 tbsp (30 mL) maple syrup
2 tbsp (30 mL) red wine vinegar
3 tbsp (45 mL) extra virgin olive oil
Salt and pepper
1 head Boston lettuce, torn 3 radishes, thinly sliced
½ cup (125 mL) freshly shucked peas
¼ cup (60 mL) green onion
2 tbsp (30 mL) fresh tarragon leaves
1 In a bowl, mix the kosher salt with ¼ cup (60 mL) of maple syrup.

2 Place the trout in a large rimmed dish and cover with salt-syrup mixture. Rub mixture gently over the flesh of the fish. Place in refrigerator for 3 hours.

3 Meanwhile, prepare a cedar plank by soaking it according to manufacturer's directions.

4 Preheat grill to medium heat.

5 Rinse the fish thoroughly with cold water and pat dry with paper towel. Place fish on cedar plank. Brush remaining 2 tbsp (30 mL) maple syrup over fish. Place plank over direct heat until fish is cooked through, about 12 minutes.

6 Place avocado slices on grill. Cook until charred, about 2 minutes per side. Remove from grill and toss with lime juice. Set aside.

7 For the dressing, place mustard, maple syrup and red wine vinegar in a bowl and stir to combine. Slowly whisk in oil. Season with salt and pepper.

8 Arrange lettuce on a platter and top with radish, peas, green onion and tarragon. Flake the cedar-planked trout on top and add grilled avocado. Drizzle dressing over salad right before serving.
SHARE