Cast-Iron Chocolate Chunk Cookie Bake
Holiday 2017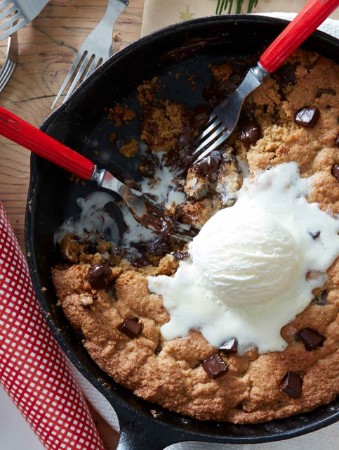 Cast-Iron Chocolate Chunk Cookie Bake
Holiday 2017
BY: Michelle Rabin
This cookie recipe eliminates half the work. Rather than dividing and forming individual cookies, all the batter is spooned into a cast-iron pan and baked whole. Adding ground-up puffed rice cereal to the flour results in a crispy cookie outside with a soft doughy centre—even after it cools! Serve it warm with a few scoops of vanilla ice cream. Slice it up or just grab a few forks and share.
4 cups (1 L) puffed rice cereal
1 cup (250 mL) flour
1 tsp (5 mL) salt
1 tsp (5 mL) baking soda
¾ cup (175 mL) unsalted butter, softened
1 cup (250 mL) packed brown sugar
½ cup (125 mL) granulated sugar
1 tbsp (15 mL) vanilla extract
2 eggs
1 egg yolk
1½ cups (375 mL) semi-sweet chocolate chunks
1 Preheat oven to 350°F (180°C). Grease a 9-inch (23-cm) seasoned cast-iron pan with butter.

2 In a food processor, pulse puffed rice cereal until it forms a dust.

3 In a medium bowl, mix ground puffed rice cereal with flour, salt and baking soda. Set aside.

4 In the bowl of an electric mixer, cream butter with sugars and vanilla until light and fluffy, about 2 minutes. Add eggs 1 at time and then the yolk and continue to beat until mixture is combined. Stir in flour mixture just until combined. Add in chocolate chunks and stir.

5 Transfer mixture into prepared castiron pan and bake until golden and crisp on top, about 30 minutes. Set on a cooling rack for 10 minutes before serving.
SHARE