Carrot Hummus
Autumn 2020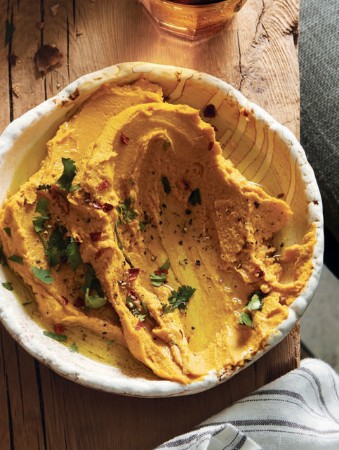 Carrot Hummus
Autumn 2020
BY: Eric Vellend
This smooth, creamy and gently smoky hummus gets its sweetness and colour from carrots and carrot juice. For a veggie tray with a fall feel, try carrots, celery sticks, briefly blanched broccolini and leaves of Belgian endive and Treviso radicchio.
1 can (540 mL) chickpeas, drained, rinsed
½ lb (225 g) carrots, about 2 medium, peeled, halved lengthwise, sliced ⅓ inch (8 mm) thick
1 cup (250 mL) carrot juice
Salt to taste
1 clove garlic, grated on rasp
¼ cup (60 mL) tahini paste
¼ cup (60 mL) extra virgin olive oil, plus more for serving
2 tbsp (30 mL) fresh lemon juice
1 tsp (5 mL) smoked paprika
1 tsp (5 mL) cumin
½ tsp (2 mL) coriander
Chili flakes and chopped cilantro to garnish
Pita and crudités for serving
Place chickpeas, carrots and carrot juice in a medium saucepan. Cover and place over high heat. When it comes to a boil, season lightly with salt and reduce heat to maintain gentle simmer. Cook, stirring occasionally, until carrots are soft, 8 to 10 minutes. Remove from heat.


Transfer mixture to blender and add garlic, tahini, olive oil, lemon juice, spices and salt to taste. Blend, holding lid firmly down, until smooth, stopping to scrape down bowl several times. Taste for salt and transfer to an airtight container. Cool, cover and refrigerate up to 5 days.


When ready to serve, bring desired amount of hummus to room temperature then swirl in a shallow bowl. Drizzle generously with olive oil and sprinkle with chili flakes and cilantro. Serve with warm pita and raw vegetables.
Makes 3 cups (750 mL) or about 10 to 12 servings
SHARE