Cantaloupe-Watercress Salsa with Vanilla Vinaigrette
Early Summer 2018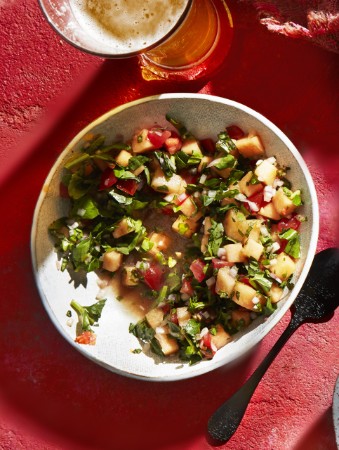 Cantaloupe-Watercress Salsa with Vanilla Vinaigrette
Early Summer 2018
BY: Amy Rosen
Don't knock it till you've tried it! The sweet melon and the mustardy 'cress get extra juicy with ripe tomatoes and a whisper of vanilla. It's a salsa that's refreshingly unexpected.


2 cups (500 mL) cantaloupe, seeded, peeled and diced
3 medium tomatoes, diced
1 bunch watercress, top half with stems chopped (discard bottoms)
2 shallots, minced
¼ cup (60 mL) basil, chopped

VINAIGRETTE
Juice of 1 lemon
½ tsp (2 mL) pure vanilla extract
1 tsp (5 mL) honey
3 tbsp (45 mL) olive oil
Salt to taste
1 In a medium bowl, combine prepared cantaloupe with tomatoes, watercress, shallots and basil.

2 In a small bowl, whisk together lemon juice with vanilla and honey. Whisk in olive oil until emulsified. Add to salsa bowl and toss to coat. Season to taste with salt.
SHARE