Cantaloupe & Cucumber Salad with Queso Fresco & Spiced Pepitas
Summer 2020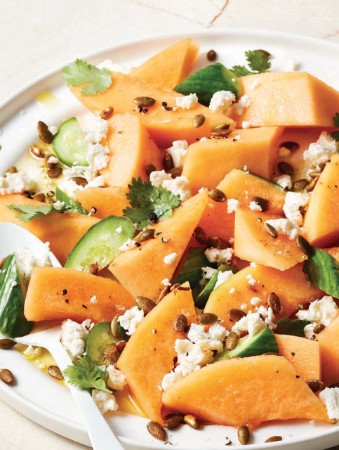 Cantaloupe & Cucumber Salad with Queso Fresco & Spiced Pepitas
Summer 2020
BY: Eric Vellend
This savoury fruit salad gives fragrant melon and crunchy cukes some Latin flair with queso fresco, spicy pumpkin seeds and a zesty lime dressing. If you can't find queso fresco (a mild, white cheese available at Latin American food shops and select cheesemongers), use ricotta salata or feta instead.
SPICED PEPITAS
½ cup (125 mL) hulled pumpkin seeds
½ tsp (2 mL) extra virgin olive oil
½ tsp (2 mL) smoked paprika
¼ tsp (1 mL) ground chipotle powder
Salt to taste
SALAD
¼ cup (60 mL) extra virgin olive oil
2 tbsp (30 mL) fresh lime juice
1 tsp (5 mL) agave syrup or honey
Salt and freshly ground pepper to taste
½ large ripe cantaloupe (about 2 lbs/1 kg), peeled, seeded
4 mini cucumbers, sliced on bias ¼-inch (5-mm) thick
4 oz (115 g) queso fresco, crumbled
Cilantro leaves to garnish
Large lime wedge
1 For the spiced pepitas, place pumpkin seeds in a medium frying pan over medium heat. Cook, stirring occasionally, until lightly browned and beginning to pop, about 5 minutes. Remove pan from heat and stir in ½ tsp (2 mL) olive oil to coat. Add spices and salt, and stir 30 seconds. Transfer to a plate to cool completely. Transfer to an airtight container. (Store in a cool, dry place up to 1 month.)
2 For the salad, whisk ¼ cup (60 mL) olive oil, lime juice, agave or honey, salt and pepper in a small mixing bowl until Set aside.
3 Cut cantaloupe into ¾-inch (2-cm) w Cut each wedge crosswise into 4 pieces. Place in a large mixing bowl with cucumber. Season to taste with salt and pepper. Drizzle with dressing and gently mix. Arrange on a shallow serving platter. Sprinkle with cheese, some pepitas (save the rest for another use) and cilantro. Squeeze lime wedge over salad and serve.
SHARE