Cajun Chicken Burgers with Creole Mustard
Early Summer 2014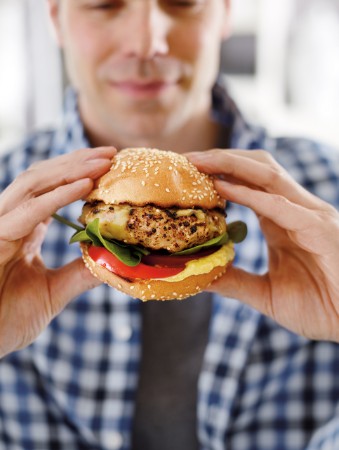 Cajun Chicken Burgers with Creole Mustard
Early Summer 2014
BY: Julia Aitken
Southern flavours and a spicy mustard add zip to simple chicken burgers.
2 tbsp (30 mL) olive oil
1 small onion, finely chopped
Kosher salt and freshly ground black pepper
2 cloves garlic, minced
¼ cup (60 mL) smooth Dijon mustard
1 tsp (5 mL) well drained hot prepared horseradish
2 lbs (1 kg) boneless, skinless chicken thighs
1 tsp (5 mL) sweet smoked paprika
1 tsp (5 mL) dried oregano
1 tsp (5 mL) dried thyme
¼ tsp (1 mL) cayenne
6 oz (175 g) thinly sliced Monterey Jack cheese with jalapeño
6 burger buns, split
Baby spinach and sliced tomatoes to serve
1 In a small skillet, heat oil over medium heat.Add onion and salt and pepper to taste. Cook, stirring often, until onion is softened but not browned, about 5 minutes. Add all but ½ tsp (2 mL) garlic. Cook, stirring, until fragrant but not browned, about 30 seconds. Remove from heat and let cool completely.

2 Meanwhile, in a small bowl, stir together mustard, horseradish and remaining garlic. Set aside.

3 Trim any large pieces of fat from chicken thighs but don't trim all fat; you need some to ensure burgers are moist. Cut chicken thighs into ½-inch (1-cm) pieces.

4 In a large bowl, toss chicken with onion mixture, paprika, oregano, thyme, cayenne and salt and pepper to taste.

5 In a food processor, pulse half of chicken mixture about 12 times or until coarsely ground with some larger pieces. Tip ground chicken into a second large bowl. Repeat with remaining chicken mixture. Combine ground chicken mixture gently with your hands.

6 Form about 1 tbsp (15 mL) of the chicken mixture into a tiny patty. In a small non-stick skillet, cook patty over medium heat, turning once, until no longer pink inside, 3 to 5 minutes.Taste cooked patty and add more paprika, oregano, thyme, cayenne, salt or pepper to raw chicken mixture if necessary.

7 Preheat barbecue to medium.

8 Form chicken mixture into 6 evenly sized burgers. Place chicken burgers on well-oiled grill. With an oiled spoon, make an indentation in centre of each burger (this helps burgers to cook more evenly). Grill burgers, turning once, until a meat thermometer inserted horizontally into centre of a burger registers 160°F(70°C), 8 to 10 minutes. Just before burgers are done, top each with cheese, dividing evenly.

9 Grill burger buns until lightly toasted. Spread buns with Creole mustard. Top bottom half of each bun with spinach and tomato slices. Adda burger to each bun then replace tops.
SHARE