Buttery Beef & Porcini Patties
Early Summer 2019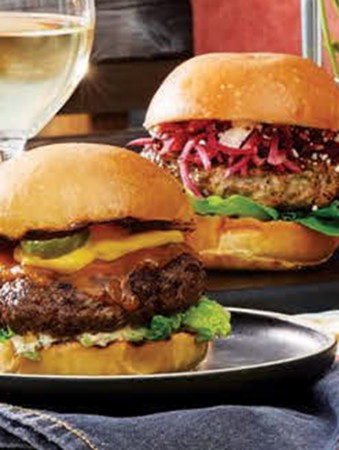 Buttery Beef & Porcini Patties
Early Summer 2019
BY: Christopher St. Onge
Commercially available ground beef is, regrettably, getting leaner and leaner, driven by decades of misinformation about fat. You could make a special trip to a butcher and ask for ground chuck, but sometimes a one-stop-shop is all you're after. Enriching supermarket mince with butter is the answer. Browning the butter first gives the meat a nutty flavour characteristic of the best dry-aged beef.
½ oz (15 g) dried porcini mushrooms
1 cup (250 mL) boiling water
3 tbsp (45 mL) unsalted butter
1 tbsp (15 mL) Japanese soy sauce (such asKikkoman brand)
1½ lbs (680 g) medium ground beef
Salt and freshly ground black pepper
1 Place porcini in a small heatproof bowl and pour boiling water over; let stand 30 minutes. Drain (reserve soaking liquid for another use if you like). Once mushrooms are cool enough to handle, squeeze dry over the sink; finely chop and set aside.

2 In a small pot, melt butter over medium heat; let cook for 3 to 4 minutes or until foaming has subsided and particles in butter are light brown. Add porcini and soy to the pot, stir and immediately remove from heat. Let cool to room temperature.

3 Crumble ground beef into a large bowl; spoon butter mixture over. Gently mix to combine and form into 4 equal-sized patties, about ¾ inch (2 cm) thick (patties may be made up to a day in advance, covered tightly with cling wrap and refrigerated).

4 Season patties with salt and pepper as you would a steak. Cook over a high grill for 3 to 4 minutes per side or until no longer pink in the centre.

5 Serve alongside Sesame & Green Onion Mayo and Burger Fixings.
SESAME & GREEN ONION MAYO
Tricking out commercial mayonnaise is an easy way to impress guests—it's not any trouble but everyone thinks it is.
½ cup (125 mL) mayonnaise
½ tsp (2 mL) sesame oil
4 green onions, finely chopped
1 tsp (5 mL) chili garlic sauce or Sriracha
1 tbsp (15 mL) toasted sesame seeds
1 Whisk together the mayonnaise and sesame oil; stir in green onions, sauce and sesame seeds. Mayonnaise is best the day it's made but will keep, covered and refrigerated, for 3 days.
SHARE