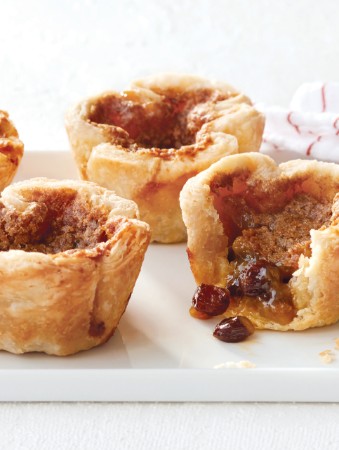 BY: Elizabeth Baird
Butter tarts are the ultimate all-occasion dessert— great for summer picnics and cottage weekends, bake sales, for brunch or topped with ice cream and chocolate sauce for dinner parties. Keep your eye out for butter tart ice cream—baked tarts, broken up, mixed with ice cream still at the soft frozen stage, then hardened.
⅓ cup (80 mL) soft butter
¾ cup (175 mL) packed brown sugar
2 eggs
½ cup (125 mL) medium, amber or dark maple syrup
1 tbsp (15 mL) fresh lemon juice
Easy Butter Pastry (recipe follows)
¾ cup (175 mL) your choice Thompson raisins, chopped walnut or pecan halves or chocolate chips
1. Arrange oven rack in bottom third of oven. Preheat oven to 375°F (190°C).

2. In a bowl, beat the butter and sugar until smooth; beat in the eggs, maple syrup and lemon juice. Set aside.

3. Roll out Easy Butter Pastry to scant ¼-inch (5-mm) thickness. Cut out twelve 4½-inch (11-cm) rounds, rerolling pastry as needed. Fit rounds into deep muffin pans, pressing the pastry up slightly over the rims.

4. Divide your choice of raisins, nuts or chocolate chips among the tart shells. Spoon filling into tart shells, filling almost to the top. Bake until pastry is golden and the filling domes up to the top, 20 to 25 minutes.

5. Let pans rest for 3 minutes on a rack; run a small offset spatula or rounded blade of knife around the edges to loosen the tarts, especially where the filling has run deliciously down the side of pastry. Let stand for 5 minutes for tarts to firm up. Again using an offset spatula, lift tarts to rack to cool. If making ahead, layer with waxed paper in airtight container; store at room temperature for up to 3 days or freeze for up to 2 weeks. Reheat to serve.
EASY BUTTER PASTRY

This recipe is adapted from one in the 1913 edition of the Five Roses Cook Book, and is popular in the Foodways Program at Fort York National Historic Site.

1¾ cups (425 mL) all-purpose flour
½ tsp (2 mL) salt
⅔ cup (150 mL) cold butter, cubed
1 egg yolk
3 tbsp (45 mL) ice water, approximate
1 tbsp (15 mL) fresh lemon juice
1. In a large bowl, whisk together the flour and salt. With pastry blender or fingertips, rub the butter into the flour mixture, working briskly until the mixture looks like coarse fresh bread crumbs.

2. In a separate bowl, whisk egg yolk, 3 tbsp (45 mL) water and lemon juice until blended. Sprinkle over flour mixture, tossing dry and wet ingredients until they clump together, and sprinkling on a few more drops of ice water if necessary to incorporate all the flour. Press until smooth; flatten into disc. Wrap and chill for 30 minutes, or up to 2 days. Let pastry come back to cool room temperature before rolling on floured surface.
Make enough for 12 good-sized tarts
SHARE