Bulgur, Lentil & Artichoke Salad
Summer 2018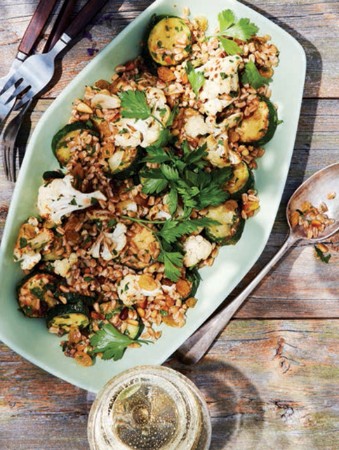 Bulgur, Lentil & Artichoke Salad
Summer 2018
BY: Christopher St. Onge
The best kinds of summer salads are the sort you can put in the fridge and pull out whenever you're hungry. There's a lot of work up front here, but each step adds flavour. The payoff is a healthy salad that you can keep on hand for days. White vinegar has fallen out of favour, but its clean flavour works beautifully here. Be sure to use 5 percent acid vinegar and not the stronger 7 percent pickling vinegar.
LENTILS
4 cups (1 L) water
1 tsp (5 mL) salt
2 tbsp (30 mL) white vinegar
¾ cup (175 mL) French green lentils

BULGUR
1 cup (250 mL) bulgur
1¾ cups (425 mL) water

CARAMELIZED ONIONS
3 tbsp (45 mL) olive oil
1 large Spanish onion, halved and thinly sliced
Salt

TO ASSEMBLE
8 baby artichokes
2 tbsp plus 1/4 cup (30 mL plus 60 mL) olive oil, divided
3 tbsp (45 mL) white vinegar
1 tsp (5 mL) ground cumin
2 cups (500 mL) chopped dill
Salt to taste
1. To cook lentils, combine water, salt and vinegar in a medium pot over medium heat. Bring to a boil, add lentils, cover and cook until tender, 25 to 30 minutes. Drain and set aside in a large salad bowl.

2. Clean out pot, add the bulgur and water; cover and bring to a boil. Cook until water is absorbed, about 12 minutes. Fluff with a fork and add to salad bowl.

3. In a large skillet, heat oil over medium heat. Add onions, season generously with salt, cover and cook, undisturbed, for 10 minutes. Remove lid and continue to cook, stirring every 5 minutes or so, for 40 to 50 minutes longer or until deeply caramelized. Scrape into salad bowl.

4. Trim the artichokes of their stems and ½ inch (1 cm) of their tops. Slice each into 4 pieces lengthwise. Heat 2 tbsp (30 mL) oil in a clean skillet over medium. Add artichokes and fry 3 minutes per side or until golden; add to bowl.

5. Dress salad with remaining ¼ cup (60 mL) olive oil, vinegar, cumin and dill; gently mix. Season to taste with salt. Serve right away while still warm or cover and refrigerate for as long as 5 days.
SHARE