Brown Bread with Cashel Blue Cheese
Spring 2016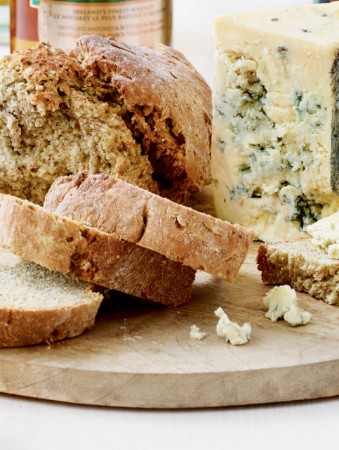 Brown Bread with Cashel Blue Cheese
Spring 2016
BY: Lucy Waverman
Brown bread is the Irish term for soda bread. No yeast is added. The recipes vary from household to household; some include molasses or eggs. Using whole wheat flour that has a little texture to it (I used Red Fife) will make the crunchiest bread. Crush the soda through your fingers before adding it to the bread to make sure there are no lumps. This recipe is from the Dingle Cookery School on the Dingle Peninsula, the most westerly area of Ireland. Amongst many other things, the school teaches traditional Irish cuisine. Cashel Blue cheese is the traditional blue cheese of Ireland—but only since 1984, when it was first made at a dairy in South Tipperary. It is buttery and creamy with the tang of a blue cheese but not as pronounced. Once tasted it seems to become everyone's favourite. Serve the cheese with the brown bread or whole meal crackers. Wrap the loaf and place it in an airtight tin; it will keep well for a few days.
2½ cups (625 mL) brown flour (whole wheat)
1 cup (250 mL) all-purpose flour
¾ cup (175 mL) oat bran
2 tsp (10 mL) baking soda
1 tsp (5 mL) salt
2 cups (500 mL) buttermilk
¼ cup (60 mL) melted butter

15 oz (450 g) Cashel Blue cheese
1 Preheat oven to 400°F (200°C).

2 Mix all dry ingredients together.

3 Add buttermilk and butter and stir until dough reaches a stiff porridge consistency. Let rest in the bowl for 20 minutes.

4 Place the dough on a floured baking sheet and shape into a round about 7 inches (18 cm) in diameter. Bake for 10 minutes. Reduce heat to 350°F (180°C) and bake for another 30 minutes or until the bottom of the loaf sounds hollow when knocked.

5 Cool and pull into 4 quarters. Thinly slice and serve with the cheese.
Makes 1 loaf, which will serve about 8
SHARE