Brined Smoked Salmon with Potato Salad & Green Tartar Sauce
Early Summer 2014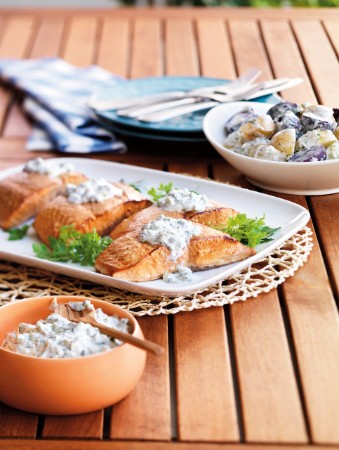 Brined Smoked Salmon with Potato Salad & Green Tartar Sauce
Early Summer 2014
BY: Lucy Waverman
Brining and smoking salmon gives a whole different flavour and texture to the fish, and slow cooking enhances its succulence. Serve cold with the potato salad, or hot with snap beans. Adding bacon to the potato salad is a great way to enhance the smokiness of the dish. This recipe works beautifully in a smoker.
BRINE
⅓ cup (80 mL) kosher salt
¼ cup (60 mL) brown sugar
1 cup (250 mL) hot water
3 cups (750 mL) cold water
2 bay leaves
6 peppercorns
4 juniper berries
4 pieces salmon fillet, each 6 oz (175 g), with skin
2 tsp (10 mL) vegetable oil

GREEN TARTAR SAUCE
¼ cup (60 mL) sour cream
¼ cup (60 mL) mayonnaise
¼ cup (60 mL) minced celery
2 tbsp (30 mL) chopped cornichons
1 tbsp (15 mL) chopped capers
1 tbsp (15 mL) chopped green onion
2 tbsp (30 mL) chopped parsley
1 tbsp (15 mL) chopped chervil
2 tsp (10 mL) chopped fresh tarragon
1 tsp (5 mL) lemon juice (or to taste)
Pinch cayenne
Salt to taste

POTATO SALAD
8 oz (250 g) mini gold potatoes
8 oz (250 g) mini brown potatoes
8 oz (250 g) mini purple potatoes
1 Add salt and sugar to hot water and stir until dissolved. Stir in cold water, bay leaves, peppercorns and juniper berries. Place salmon skin-side up in a baking dish. When liquid is cool, pour over salmon. The fish should be submerged in the brining liquid. Cover and refrigerate for 2 hours. Remove salmon from brine and pat dry.

2 Preheat grill to high. Add smoking packages. (To make smoking packages: wrap 2 cups (500 mL) wood chips in foil. Poke holes in foil and add to barbecue before you reduce heat.) Turn off 2 burners and reduce heat to 225 to275°F (110 to 140°C).

3 Rub the skin side of the salmon with vegetable oil. Place salmon skin-side down on the side of the grill that is turned off. Close lid and bake for 20 to 25 minutes, or until white juices begin to appear. Remove from heat and let cool to room temperature. Refrigerate until cold, about 1 hour.

4 Combine all the tartar sauce ingredients in a medium bowl and reserve.

5 Bring potatoes to a boil in a large pot of salted water. Reduce heat and simmer until tender, about 15 min. Drain and let cool. Slice potatoes in half and then mix with ⅓ cup (80 mL) tartar sauce.

6 Serve cold salmon with the creamy potato salad and remaining tartar sauce.

TIP Oil the salmon skin so the salmon will easily come off the grill. Because it is a fatty fish, watch for flare-ups
and have handy a spray bottle of water to put them out.
SHARE