Brandied Fig, Cranberry and Raisin Challah Pudding
Winter 2020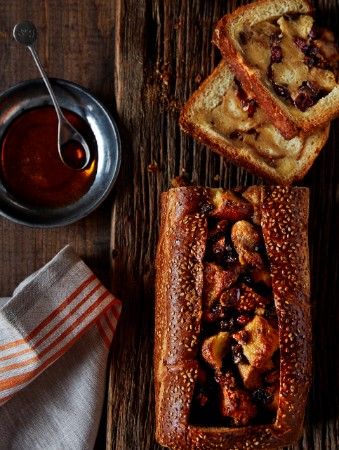 Brandied Fig, Cranberry and Raisin Challah Pudding
Winter 2020
BY: Signe Langford
We've made this dessert more decadent and custardy by upping the eggs and cream, and adding a splash of maple syrup and brandy. Enjoy it hot from the oven or the next day, with ice cream or whipped cream, or simply drizzle with more 35% cream and maple syrup. We've filled an eggy challah bread with the pudding, but any loaf on the sweeter side of things—cinnamon raisin or brioche—will do.  
1 challah; about a typical 425-g loaf
¼ cup (60 mL) packed brown sugar, plus 2 tbsp (30 mL) for topping
1½ tsp (7 mL) cinnamon, divided
¼ cup (60 mL) raisins
¼ cup (60 mL) medium finely chopped dry figs; about 2 to 4 figs
¼ cup (60 mL) dried cranberries
⅓ cup (80 mL) brandy
6 free-run eggs
½ cup (125 mL) 35% cream
1 tsp (5 mL) maple or vanilla extract
¼ cup (60 mL) full fat (14%) sour cream
⅓ cup (80 mL) maple syrup
⅓ cup (80 mL) melted butter, plus more for greasing the pan and topping
Pinch sea salt
Pinch of freshly grated nutmeg
1. Preheat oven to 350°F (180°C).

2. Generously butter a loaf pan—sides and bottom—or another ovenproof dish that is the right size and shape to hold the loaf snug or at least steady and upright.

3. Place the loaf into the buttered pan, and with a paring or steak knife, cut out an opening in the top, leaving about 1 inch (2.5 cm) of a bread wall. Remove the top and interior crumb; gently digging it out, leaving about 1 inch (2.5 cm) of bread at the base. Cut any really big pieces of the top or crumb into about 1-inch (2.5-cm) chunks, and transfer all crumb to an ungreased baking sheet.

4. Using fingers, press the bread on the bottom to make a nice, sturdy base; patch up any tears with soft crumb.

5. Sprinkle the bottom of the bread with ¼ cup (60 mL) packed brown sugar and ½ tsp (2 mL) of the cinnamon. Transfer the loaf in its pan onto the baking sheet with the crumbs and bake for 15 minutes or until crumbs are golden and crunchy; set aside.

6. Reduce oven to 325°F (160°C).

7. Into a small saucepan over low heat, add the raisins, figs, cranberries and brandy. Don't fret if it flames, it will burn itself out, but do keep the pot's lid handy. Bring to a simmer, stir once or twice, and cook uncovered for 4 to 5 minutes or until the dried fruits are nicely plumped and almost all of the brandy has been absorbed; set aside to cool.

8. In a large bowl, whisk together the eggs, cream, extract and sour cream; set aside.

9. Transfer the baked crumb to a large bowl, add the maple syrup, plumped fruits and any remaining brandy, ⅓ cup (80 mL) melted butter, ½ tsp (2 mL) of the cinnamon and salt; stir to combine.

10. To the bread-crumb mixture add about half of the egg-and-cream mixture; stir to combine and allow to rest and soften for about 5 minutes; stirring occasionally. The crumb will absorb much of the liquid.

11. Transfer the soaked crumbs to the prepared loaf, pressing down to fill any gap or air pockets. Pour in the remaining egg-and-cream mixture a bit at a time, allowing it to soak down into the loaf; use a spoon to open the crumb mixture and allow the egg and cream in. It may overflow a bit, but that's fine.

12. Sprinkle the top with remaining 2 tbsp (30 mL) brown sugar, the remaining cinnamon, pinch of nutmeg and about 1 tbsp (15 mL) butter, broken up into little bits, scattered across the top.

13. Bake for about 1 hour or until custard is lightly set, a little bubbly, and deeply golden. Allow to set further on the counter—about 15 minutes—before serving. Run a dull knife between loaf and pan before serving. If enjoying for a decadent brunch, serve with a jug of warmed heavy cream and an extra drizzle of maple syrup. Iif serving for dessert, a scoop of vanilla or rum raisin ice cream or dollop of whipped cream is just perfect!
SHARE