Braised Smoked Tofu with Roasted Eggplant
Printemps 2013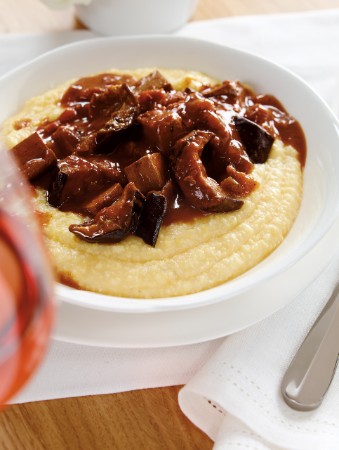 Braised Smoked Tofu with Roasted Eggplant
Printemps 2013
BY: Lucy Waverman
A special kind of tofu nugget is used at B Side BBQ for this dish. As it is not available here, I substituted extra-firm tofu and the result was excellent. Tanya Holland smoked her tofu but I used a little smoked salt instead.
1 pkg (350 g) extra-firm tofu, cut in ¾-inch (2-cm) squares
1½ cups (375 mL) Molasses bbq Sauce (recipe follows)
3 cups (750 mL) water
2 tbsp (30 mL) Blackening Spice (recipe follows)
Smoked salt to taste
1½ lbs (750 g) eggplant
2 tbsp (30 mL) olive oil
Salt and freshly ground pepper
1 Place tofu, barbecue sauce, water, blackening spice and smoked salt in a large pot. Bring to a boil on medium-high heat then reduce to low. Cover and braise for 45 minutes. Uncover and simmer for 15 more minutes until tofu has absorbed sauce flavour.

2 Preheat oven to 350°F (180°C).

3 Slice eggplant in 1-inch (2.5-cm) rounds, then cut each round into three strips. Toss eggplant with olive oil in a large bowl and season with salt and pepper. Place on a lightly oiled baking sheet and roast for 30 to 40 minutes or until browned.

4 Stir roasted eggplant into tofu mixture and cook together uncovered over medium-low heat for 20 minutes, or until sauce has slightly thickened and eggplant has absorbed the flavours. Serve with grits, polenta or rice.
BLACKENING SPICE

You can buy blackening spice, but this is Tanya Holland's personal recipe.

1 tbsp (15 mL) kosher salt
½ tbsp (7 mL) paprika
1 tbsp (15 mL) garlic powder
1 tbsp (15 mL) onion powder
2 tsp (10 mL) cayenne pepper
1 tsp (5 mL) freshly ground black pepper
2 tsp (10 mL) dried oregano
1 tsp (5 mL) dried thyme


1 Combine all ingredients in a small bowl. Store extra spice in an airtight container at room temperature to use for other recipes.

MOLASSES BBQ SAUCE

The secret to the exuberant flavour of the braised tofu is Tanya Holland's barbecue sauce. Here is her recipe.
2 tbsp (30 mL) unsalted butter
2 red onions, minced
2 tbsp (30 mL) minced garlic
2 tbsp (30 mL) minced ginger
2 tbsp (30 mL) Dijon-style mustard
½ cup (125 mL) cider vinegar
¼ cup (60 mL) soy sauce
1 cup (250 mL) brown sugar
¼ cup (60 mL) ketchup
3 tbsp (45 mL) Worcestershire sauce
2 tbsp (30 mL) lemon juice
2 tbsp (30 mL) chipotle chilies in adobo, blended into purée
1½ tbsp (22 mL) dark chili powder
1 can (798-mL) plum tomatoes, chopped
1/3 cup (80 mL) molasses
Coarse salt
Freshly ground pepper
1 In a large pot, melt butter and add onions, garlic and ginger over medium heat. Cook vegetables for 10 minutes, until softened, and then add mustard, vinegar, soy sauce, brown sugar, ketchup, Worcestershire sauce, lemon juice, chili purée and chili powder. Cook for an additional 10 minutes or until combined. Add tomatoes and molasses and cook for 30 minutes or until sauce is thick. Season to taste with salt and pepper.
Makes approximately 1 qt (1 L)
SHARE