Boned Stuffed Turkey
Holiday 2003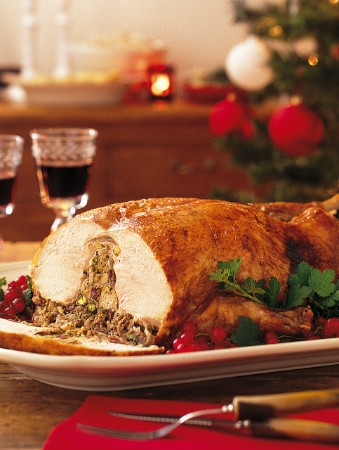 Boned Stuffed Turkey
Holiday 2003
BY: Lucy Waverman
This easy carving recipe makes a change from the traditional bird because the breastbone and backbone are removed before stuffing the bird. This recipe also works for an unbound bird but bake at 400°F (200°C) instead of 375°F (190°C). The butcher should bone from the back of the bird, not the breast. We have also provided instructions for doing it yourself. Don't bone anything larger than a 14 lb (6 kg) turkey. If you do get a bigger bird, stuff it unboned.
One 14 lb (6 kg) turkey

Stuffing
2 tbsp (25 mL) olive oil or turkey fat
3 cups (750 mL) onion, chopped
1 cup (250 mL) chopped celery
4 cloves garlic, chopped
1 lb (500 g) sweet Italian sausages, skinned and crumbled
6 cups (1.5 L) egg bread, diced into 1/2-inch (1-cm) pieces
2 tbsp (25 mL) chopped fresh marjoram, or 2 tsp (10 mL) dried
2 tbsp (25 mL) chopped Italian parsley
1 tbsp (15 mL) chopped fresh tarragon or 1 tsp (5 mL) dried
2 tsp (10 mL) paprika
Salt and freshly ground pepper
1 egg
1 cup (250 mL) dried cranberries
1 cup (250 mL) shelled pistachios, optional
1/2 cup (125 mL) chicken or turkey stock
Salt and freshly ground pepper
1 tbsp (15 mL) olive oil for brushing skin


1. For stuffing, add oil to skillet over medium heat. Stir in the onion, celery and garlic and sauté until softened, about 4 to 5 minutes.
2. Transfer to a large bowl and mix in sausage meat, bread cubes, marjoram, parsley, tarragon and paprika. Season with salt and pepper. Stir in the egg and cranberries. Add pistachios, if desired. Add enough stock to moisten stuffing. Fry about 2 tbsp (25 mL) of the mixture in the skillet and taste for seasoning, adding more salt and pepper as needed.
3. Preheat oven to 375°F (190°C).
4. Bone out the turkey breast, (see below) leaving the drumsticks and wings intact. Lay out flat, skin-side down, on counter. Spread stuffing over bird, filling any spaces. Bring both sides of bird up around stuffing to meet.
5. Using a trussing needle and string, pull any loose skin from the neck area around the stuffing and sew up. Sew back skin together making sure there are no places the stuffing can seep out. Alternatively, use wooden skewers. Turn over. Using string, tie around wings to hold in place. Tie drumsticks close to body to hold in place. Brush trussed bird with olive oil and season generously with salt and freshly ground pepper.
6. Place bird on rack over roasting pan, breast-side up. Roast 45 minutes, baste, roast 45 minutes longer and baste again. Cook a further 45 minutes to 1 hour or until juices run clear or an instant-read thermometer inserted in thickest part of bird reads 165°F (75°C). Remove from oven, cover with tea towel and let rest 20 minutes.
7. To carve, remove legs and wings and place on platter. Carve down into slices. If slices are large, cut in half.

Tip: To Bone a Turkey


1. Run a knife along one edge of the backbone, cutting through the skin.  Keeping the knife as close to the bone as possible, scrape flesh from backbone.  Gently ease leg joint out of its socket.  Cut sinew around socket to release leg.  Repeat on the other side of the backbone.
2. Once both legs are released, pull backbone completely away form carcass.  If you wish to make stock, reserve the backbone.  With the knife scrape flesh away as close to the bone as possible and not piercing or tearing the skin.  Release wings from sockets and cut sinews.  Remove wing bones if desired.  Bird should lie flat at this point.
SHARE