Blueberry-Basil Bramble
Été 2019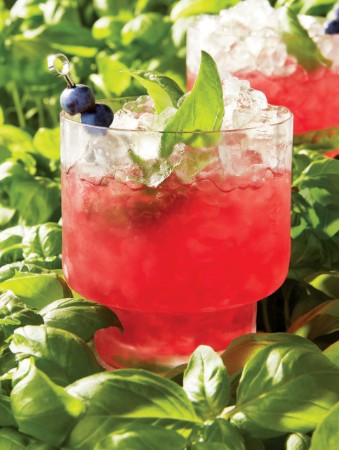 Blueberry-Basil Bramble
Été 2019
BY: Eric Vellend
A twist on the '80s-era Bramble, this icy purple drink is flavoured with blueberries, blackcurrant liqueur and fresh basil. To make it without crème de cassis, up the blueberries to ⅓ cup (80 mL) and increase the Simple Syrup to 1 oz. While this drink is excellent with just about any gin, it's especially good with lemon-infused Malfy Gin (LCBO 484204).
¼ cup (60 mL) blueberries
5 basil leaves
2 oz gin
½ oz crème de cassis
1 oz fresh lemon juice
½ oz Simple Syrup (recipe below)
3 ice cubes and crushed ice
3 blueberries on pick and basil leaf
1 In a cocktail shaker, muddle blueberries and basil. Add gin, crème de cassis, lemon juice, Simple Syrup and 3 ice cubes. Shake for 5 seconds. To double strain, put a Hawthorne strainer over shaker and hold a small sieve over glass. Strain into a chilled lowball glass three-quarters filled with crushed ice. Top with more crushed ice, if necessary. Garnish with blueberries and basil. Serve with a straw.

Simple Syrup
1 Combine equal parts sugar and water in a small saucepan. Over medium-high heat, whisk until sugar is dissolved. Remove from heat and cool completely.
SHARE