Bloody Bishop
Winter 2017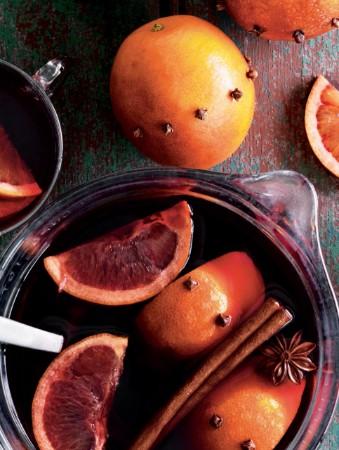 Bloody Bishop
Winter 2017
BY: Eric Vellend
This is a riff on the Smoking Bishop, a warm Victorian-era punch favoured by Charles Dickens, who makes a reference to it in A Christmas Carol. Roasting the orange with cloves infuses the mulled wine with a deep flavour, and a slug of brandy at the end gives it oomph. Don't splurge on the port; something under $20 is just fine.
1 blood orange, washed
12 cloves
1 bottle (750 mL) ruby port
1 cup (250 mL) water
2 tbsp (30 mL) granulated sugar
½ cinnamon stick
1 star anise
1 slice fresh ginger
2 oz brandy or Cognac
Blood orange slices


1. Preheat oven to 350°F (180°C).

2. Stud orange evenly with cloves. Place on small parchment-lined baking dish. Bake 1 hour. When cool enough to handle, cut into 4 wedges using a sharp serrated knife.

3. In a medium saucepan, combine port, water, sugar, cinnamon, star anise, ginger and baked orange wedges. Place over medium heat. Stir occasionally until it just starts to bubble. Remove from heat and add brandy or Cognac.

4. Serve directly from pot or warmed punch bowl in small glass mugs or teacups, garnish with orange slices.


SHARE