Beef and All-The-Broccoli Soup
Autumn 2017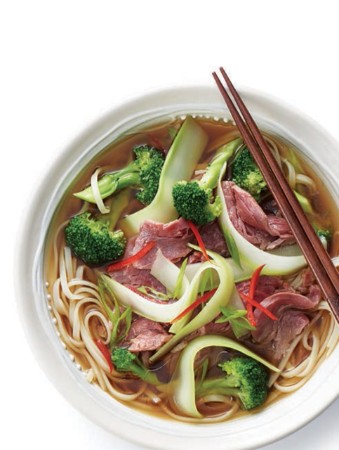 Beef and All-The-Broccoli Soup
Autumn 2017
BY: Eric Vellend
This fragrant noodle soup is a simplified spin on Vietnamese pho, where boiling broth cooks raw beef right in the bowl. If you are not confident in your knife skills, ask your butcher to slice the beef—they can freeze it and use a meat slicer. Since most broth in Tetra Paks is just short of the required measurements, make up the difference with water.
1 bunch broccoli
2 green onions
3 whole star anise
3 whole cloves
1 cinnamon stick
4 cups (1 L) unsalted beef stock
4 cups (1 L) unsalted chicken stock
3 cloves garlic, sliced
2-inch (5-cm) piece ginger, sliced
2 tbsp (30 mL) fish sauce
1 tbsp (15 mL) brown sugar
Salt to taste
¾ lb (375 g) piece trimmed beef tenderloin
¾ lb (375 g) dried rice noodles (banh pho)
1 hot red chili pepper, thinly sliced
1. Cut broccoli crowns into florets. Peel stems and slice paper thin lengthwise on a mandolin. Cover and refrigerate florets and stems separately. Set aside trimmings.

2. Thinly slice green part of green onions. Cover and refrigerate. Set aside onion whites.

3. For the broth, heat star anise, cloves and cinnamon in a large pot over medium heat. Toast, stirring, until fragrant, about 2 minutes. Carefully add stocks—it will vigorously steam—garlic, ginger, broccoli trimmings and onion whites. Raise heat to high. When it comes to a boil, cover and reduce heat to maintain gentle simmer. Cook 30 minutes. Strain broth into a clean pot, discarding solids. Add fish sauce and sugar. Season with salt. Keep warm over low heat.

4. Cut beef in half along grain. Freeze beef for 30 minutes to make slicing easier. With a sharp chef's knife, thinly slice against grain. If there are some thick spots, lightly pound with flat edge of blade. Cover and refrigerate until ready to use.

5. Bring a large pot of salted water to boil. Cook rice noodles according to instructions on package, stirring often to avoid clumping. Drain and divide among 4 warmed large deep soup bowls. Divide beef among bowls.

6. While noodles are cooking, bring broth to a boil. Add broccoli florets. Cook until al dente, 2 to 3 minutes. Ladle boiling broth and broccoli over beef. Garnish with sliced broccoli stems, green onions and chili.
SHARE