Banana Pudding Brûlée
Winter 2018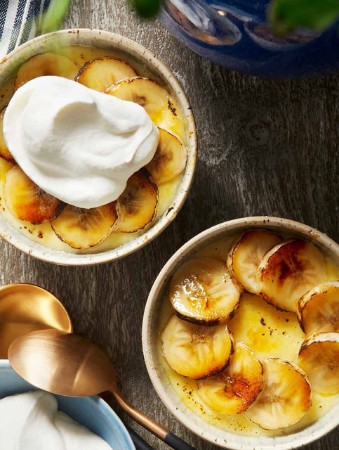 Banana Pudding Brûlée
Winter 2018
BY: Eric Vellend
Silky vanilla pudding under a roof of caramelized bananas and a cloud of whipped cream, this dessert will make you feel like a kid again. If you don't have a blowtorch, you could skip that step and lightly sprinkle the bananas with coarse turbinado sugar instead.
PUDDING
3 cups (750 mL) whole milk, divided
4 large egg yolks
⅔ cup (150 mL) sugar
¼ cup (60 mL) cornstarch
2 tbsp (30 mL) unsalted butter
1½ tsp (7 mL) pure vanilla extract
Large pinch salt
2 firm ripe bananas
Sugar for sprinkling
Unsweetened whipped cream for garnish
1 In a small saucepan, heat 2½ cups (625 mL) milk over medium heat just until hot. (Watch closely.) In a heatproof bowl, whisk together egg yolks, sugar, cornstarch and remaining ½ cup (125 mL) milk until smooth. Pour a little hot milk into egg mixture and whisk until smooth. Slowly whisk in rest of hot milk.
2 Pour mixture into a clean, medium saucepan. Place over medium heat. Cook, whisking constantly, until mixture starts bubbling. Continue whisking until it has the consistency of loose mayonnaise—from start to finish it should take 7 to 8 minutes. Remove from heat. Whisk in butter until emulsified then whisk in vanilla and salt. If it has any lumps, pass through a sieve.
3 Divide pudding among six 8-oz (250 mL) heatproof ramekins—roughly ½ cup (125 mL) of pudding in each dish. Cool 30 minutes then cover with plastic wrap and refrigerate at least 2 hours and up to 3 days.
4 When ready to serve, place puddings on baking sheet on stovetop. Thinly slice bananas and arrange on top of puddings in overlapping circles. Sprinkle with enough sugar to form a thin layer. Turn on range fan. Using a blowtorch, carefully melt sugar until lightly caramelized. Serve with whipped cream.


SHARE