Balsamic Flank Steak on White Bean Purée
Early Summer 2009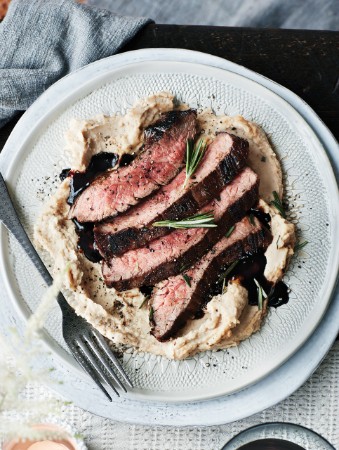 Balsamic Flank Steak on White Bean Purée
Early Summer 2009
BY: Tonia Wilson-Vuksanovic
This quick and delicious recipe can also be used for chicken and pork, as well as beef. Everything being prepared in one pan makes this dish even better, as the cleanup is a cinch.
2 lbs (1 kg) flank steak

MARINADE
1 tbsp (15 mL) garlic, finely chopped
1 tsp (5 mL) fresh rosemary, finely chopped
¼ tsp (1 mL) freshly ground black pepper
1 tbsp (15 mL) lemon juice
1 tbsp (15 mL) olive oil
Salt and pepper to taste
2 tsp (10 mL) olive oil
½ cup (125 mL) balsamic vinegar
2 tbsp (30 mL) honey
1. If steak is too large to be manageable, slice in half crosswise across the grain. Place steak in a large freezer bag with garlic, rosemary, pepper, lemon juice and oil. Let marinate at least 2 hours. Prepare White Bean Purée while marinating.

2. Remove beef from bag and pat dry with paper towel. Season generously on both sides.

3. In a large sauté pan, heat 2 tsp (10 mL) oil over medium-high heat. Add steak and cook until well browned on one side; reduce heat if pan begins to burn.

4. Turn steak over and brown the other side; for medium-rare, cook for 12 to 17 minutes depending on thickness; it should still be pink in the middle.

5. Remove steak from the pan and set aside to rest, covered with tin foil. With a paper towel wipe the pan clean of any burnt bits of garlic or rosemary. To the pan add balsamic vinegar and honey. Cook over medium heat until reduced to a sauce consistency.

6. Pour juices from the rested steak into balsamic sauce. Slice steak into ½-inch (1-cm) slices across the grain. Serve on top of White Bean Purée drizzled with sauce.

White Bean Purée
The creamy, earthy beans make a terrific backdrop to the sweet and sour flavours of the beef.

2 tbsp (25 mL) olive oil
1⁄2 cup (125 mL) white onion, coarsely chopped
1 tbsp (15 mL) garlic, finely chopped
1⁄4 tsp (1 mL) chili flakes
2 tsp (10 mL) fresh sage or oregano, coarsely chopped
2 cans (540 mL each) cannellini or white kidney beans, rinsed and drained
1⁄2 cup (125 mL) beef stock
1⁄4 cup (50 mL) 35% cream (optional)
Salt to taste
1. In a medium saucepan, heat oil over medium heat.

2. Add onion and cook until translucent, about 10 minutes.

3. Add garlic and chili flakes, cook for 30 seconds.

4. Add sage, beans and beef stock, bring to the boil and then reduce to simmer.

5. Simmer for 20 minutes with lid on, then10 minutes without lid.

6. Add cream if using and stir to combine.

7. Let cool slightly and purée with a hand blender or food processor. Season to taste.

8. Warm through before serving.
SHARE