Balsamic-Braised Short Rib & Burrata Dog
Summer 2014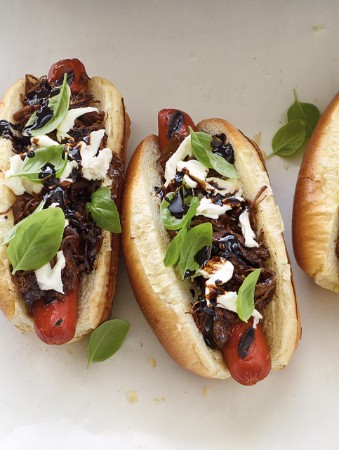 Balsamic-Braised Short Rib & Burrata Dog
Summer 2014
BY: Christopher St. Onge
Slow-cooked, meltingly tender braised beef turns these dogs into a carnivore's dream. Burrata is a specialty cheese increasingly available in Ontario. If unavailable, it can be substituted with torn fresh mozzarella or fior di latte. Balsamic syrup, sometimes labelled balsamic cream, is available alongside the vinegars at most large grocers.
BALSAMIC-BRAISED SHORT RIBS
2 tbsp (30 mL) olive or vegetable oil
1½ lbs (750 g) bone-in beef short ribs, cut into 2-inch (5-cm) chunks
Salt and freshly ground pepper
5 cloves garlic, chopped
1½ cups (375 mL) good quality beef stock, or purchased beef broth diluted with equal parts water
1 bay leaf
1 tbsp (15 mL) balsamic syrup
10 to 12 oz (300 to 375 g) burrata
6 jumbo all-beef franks
6 brioche-style hot dog buns
Generous bunch basil
Additional balsamic syrup, for drizzling
1 For the short ribs, heat oil in a medium Dutch oven over high heat. Season ribs generously with salt and pepper and brown on all sides, about 12 minutes total; remove to a plate. Reduce heat to medium, add garlic to pot and stir until lightly golden, about 1 minute. Pour beef stock over; stir in bay leaf and balsamic syrup.

2 Return beef to pot, bring to a boil, cover and reduce heat to low; simmer for 3 to 3½ hours or until fork-tender. Once again remove beef to a plate. Increase heat to high and reduce braising liquid, uncovered, to a scant 1 cup (250 mL).

3 Meanwhile, discard beef bones and shred meat with 2 forks. Return to pot and toss with reduced braising liquid. Check seasoning, cover and keep warm while preparing franks.

4 Preheat grill to medium-high.

5 Drain burrata if necessary; working over a bowl to catch cream, tear into bite-size pieces. Set aside.

6 Grill franks until hot, turning from time to time, about 8 minutes total. Toast buns if desired.

7 Place a frank in each bun, divide shredded short rib between dogs, and top each with an equal amount of burrata and burrata cream. Garnish with fresh basil leaves and drizzle each with additional balsamic syrup to taste.
SHARE