Balsam Fir Champagne Cocktail
Holiday 2020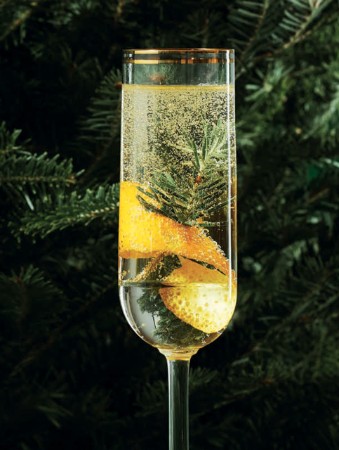 Balsam Fir Champagne Cocktail
Holiday 2020
BY: Victoria Walsh
Give this classic cocktail a seasonal twist by incorporating fragrant and sweet-tasting balsam fir tips. Get balsam fir tips from a reputable forager (like Forbes Wild Foods), order online or look for them at your local farmer's market.
1 oz Balsam Fir Syrup (recipe follows)
6 oz dry sparkling wine
1 orange peel strip, for garnish
1 balsam fir tip, for garnish
1. Pour syrup into a flute. Top with sparkling wine. Stir to mix. Pinch orange peel over glass spritzing essential oils then rubbing the exterior of the peel around the exterior rim of the glass. Cut a thin slit into orange peel strip and thread balsam fir tip into it. Twist and drop in glass.
BALSAM FIR SYRUP

Place 1 cup (250 mL) granulated sugar, 1 cup (250 mL) water and 5 balsam fir tips in a small saucepan. Set over medium heat. Bring to a gentle simmer. Gently simmer, adjusting heat as needed, until flavours infuse, about 5 minutes. Remove from heat and let cool completely. Fine-strain through a funnel lined with several layers of cheesecloth.

Makes 10 to 12 oz syrup for 10 to 12 Balsam Fir Champagne Cocktails
SHARE