Baked Eggs with Feta & Dill
Printemps 2010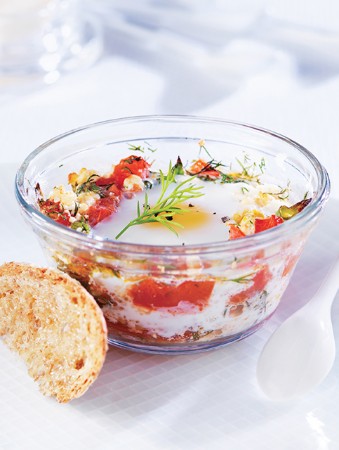 Baked Eggs with Feta & Dill
Printemps 2010
BY: Heather Trim
This comforting egg dish is on the table in less than 20 minutes, ideal for a brunch get-together, as baking the eggs simplifies life for the cook. A spinach salad (less the eggs, of course) would be a perfect accompaniment.
2 tsp (10 mL) olive oil
1½ cups (375 mL) coarsely chopped plum tomatoes, 2 to 3
2 green onions, thinly sliced
Pinches of salt
¼ cup (50 mL) crumbled feta
2 tbsp (25 mL) chopped dill (optional)
4 eggs
Black pepper
Dill sprigs (optional)
1. Preheat oven to 400°F (200°C).

2. Lightly oil 4 custard cups (⅔ cup/150 mL in size). Heat remaining oil in a large frying pan over medium heat. Add tomatoes and stir just until they begin to soften, about 1½ minutes. Add green onions and salt. Stir.

3. Fill bottom of custard cups with tomato mixture. Sprinkle feta and dill over top. Stir to mix with tomatoes. Using a spoon create a hollow in tomato mixture. Carefully crack1 egg into each hollow. Sprinkle with salt and pepper. Place a small sprig of dill on yolk if using.

4. Bake just until eggs are set, about 15 minutes for runny eggs. Delicious with warm buttered toasts.
SHARE