Baby Vegetable & Tahini Soup
Printemps 2016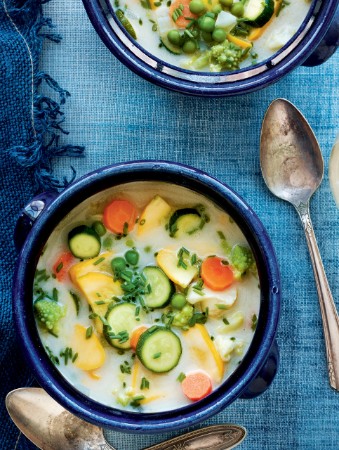 Baby Vegetable & Tahini Soup
Printemps 2016
BY: Christopher St. Onge
Bursting with colour, this luxurious and delicious version of takhinosoupa (a traditional Lenten fasting dish eaten on Good Friday) is chock full of baby vegetables now commonly available at many large grocers—and is nothing short of celebratory. The traditional, more austere version of takhinosoupa contains no vegetables and only a handful of orzo or rice.
⅓ cup (80 mL) tahini
3 tbsp (45 mL) lemon juice
4 cloves roasted garlic, peeled and mashed (see TIP)
1 tbsp (15 mL) olive oil
1 small onion, finely chopped
2 cartons (480 mL each) or 4 cups (1 L) homemade chicken stock
4 cups (1 L) water
Salt and freshly ground black pepper
8 baby carrots, peeled and sliced into thin rounds
2 heads of baby white cauliflower, broken into small florets
2 heads of baby green cauliflower or romanesco, broken into small florets
6 baby zucchini, sliced into thin rounds
6 baby patty pan squash, trimmed and thinly sliced
½ cup (125 mL) frozen peas or petits pois
¼ cup (60 mL) finely chopped chives
1 Place tahini, lemon juice and roasted garlic in a blender; set aside.

2 Heat oil in a large pot over medium heat; add onion and cook until translucent, about 3 minutes. Add chicken stock and water to pot, bring to a boil and season to taste with salt and freshly ground pepper. Stir in carrots, return to a boil and cook for 5 minutes. Add both types of cauliflower, zucchini and patty pan squash; once again bring back to a boil. Cook an additional 7 minutes or until vegetables are tender. Stir in peas and remove from heat.

3 Strain 2 cups (500 mL) stock from the soup into blender containing the tahini (return vegetables to soup pot); liquefy. Stir tahini mixture into soup. Divide between 10 soup bowls and garnish each with a generous pinch of chives.
TIP To make roasted garlic, trim top from a whole head to expose individual cloves. Drizzle cut surface with 2 tsp (10 mL) of olive oil and wrap head in foil. Roast in a 400°F (200°C) oven for 30 to 35 minutes or until golden and tender.
SHARE