Autumn Strawberry Lemon Curd Puff
Automne 2020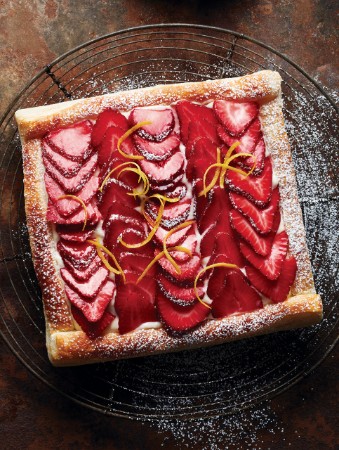 Autumn Strawberry Lemon Curd Puff
Automne 2020
Fall often arrives with bright and sunny, almost summer, weather (without the humidity!). With the autumn weather, a whole new crop of Ontario strawberries arrives too. And when those are done, look for local, hydroponically grown berries.
1 egg, lightly beaten
1 tbsp (15 mL) water
Flour for surface
1 sheet frozen puff pastry, thawed from a 454 g-box
1 tbsp (15 mL) granulated sugar
½ cup (125 mL) whipping cream
1 lemon
½ cup (125 mL) bottled store‑bought lemon curd
2 to 2½  cups (500 to 625 mL) thinly sliced strawberries
Icing sugar for dusting, optional
1 Preheat oven to 425°F (220°C).
2 Whisk egg with 1 tbsp (15 mL) water. Flour your counter, then unroll 1 cold sheet of puff pastry. It might be sticky, so lightly flour the pastry. Take the parchment paper that it was rolled in and lay it on a baking sheet. Immediately transfer puff pastry onto parchment, keeping it in its square shape. Cut ½-inch (1-cm) strips from each side of pastry. Brush entire pastry lightly with egg mixture. Stick strips that you have just cut on outside edges of pastry, to form a rim. Trim and discard any overhang. Brush rim with egg mixture. Prick base of pastry all over with a fork (you can't over prick). Sprinkle pastry with sugar. Freeze for 10 minutes, even if oven has preheated. Bake on bottom rack, in preheated oven, until fully baked and golden, 15 to 17 minutes. Remove from oven and cool completely. Pastry can be wrapped well and stored at room temperature for up to a day.

3 Place whipping cream in a bowl to beat. Finely grate about 1½  tbsp (20 mL) lemon zest into cream then squeeze in 2 tbsp (30 mL) juice. Beat until stiff peaks form. Place curd in a small bowl. If it is really stiff, stir in 1 to 2 tsp (5 to 10 mL) lemon juice to loosen. Beat into cream. Refrigerate mixture for at least an hour or overnight. 4 About an hour before serving, spread lemon cream over pastry. Refrigerate. Just before serving arrange strawberries over lemon cream. If desired, dust with icing sugar.
SHARE