Arugula Salad with Grapefruit Vinaigrette & Spicy Shrimp
Début de l'été 2011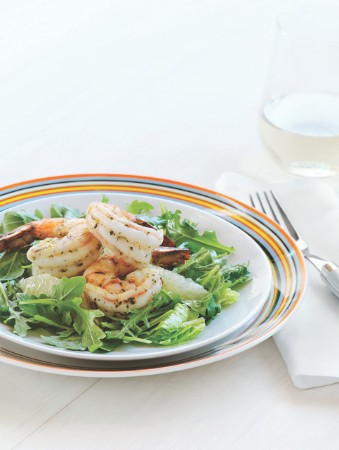 Arugula Salad with Grapefruit Vinaigrette & Spicy Shrimp
Début de l'été 2011
BY: Marilyn Bentz-Crowley
A serendipitous March-break lunch at Piattini Wine Cafe in Boston provided the inspiration for these shrimp, which are spicy with dry mustard and black pepper, not cayenne. This salad is very fresh with citrus flavours predominating and cooling bits of grapefruit that are a perfect foil to the spice of the shrimp—and the bite of the arugula. Shrimp size is measured by the number per pound so for dramatic looks choose size 13 to 15s, however, I prefer size 21 to 24s for best texture and taste.
SHRIMP
1 lb (500 g) large tail-on raw shrimp, defrosted
1 large garlic clove, minced
2 tsp (10 mL) finely chopped fresh thyme
1 tsp (5 mL) finely grated lemon zest
½ tsp (2 mL) finely ground black pepper
½ tsp (2 mL) salt
½ tsp (2 mL) dry mustard
2 tbsp (25 mL) olive oil, divided

SALAD
2 medium grapefruit
1 to 2 tbsp (15 to 25 mL) seasoned rice-wine vinegar
1 tbsp (15 mL) olive oil
1 small garlic clove, minced
¼ tsp (1 mL) Dijon mustard
4 cups (1 L) lightly packed baby arugula
4 cups (1 L) lightly packed baby spinach or torn romaine


1. Peel shrimp if needed, leaving just tails attached; discard shells. Dry shrimp well with paper towels. Stir garlic with thyme, zest, pepper, salt and mustard until well combined. Rub all over shrimp; drizzle with 1 tbsp (15 mL) oil. Toss until evenly coated. Cover and promptly refrigerate for up to half a day.

2 Section grapefruits by removing outer rind and membrane with a chef's knife. Then holding fruit in hand over a large bowl, cut between inner sections leaving rubbery membrane behind. Squeeze juice from membrane into bowl to use for dressing.

3. Measure out ¼ cup (50 mL) grapefruit juice. Stir with 1 tbsp (15 mL) vinegar, 1 tbsp (15 mL) olive oil, garlic and Dijon; taste and add remaining vinegar if needed. Set aside. Drain remaining juice from sections; drink or save to put in a smoothie at another time.

4. When ready to serve, heat remaining 1 tbsp (15 mL) oil in a large frying pan over medium heat until hot. Add shrimp all at once. Sauté, turning frequently for 7 to 9 minutes (a bit longer if using size 13 to 15 shrimp), or until hot, pink and firm.

5 Toss arugula and spinach mixture with dressing. Portion onto plates; dividing equally, drizzle with any remaining dressing in bowl. Top with grapefruit sections and shrimp. Serve right away.


Serves 6 as a first course
SHARE