Apricot-Glazed Salami with Spicy Mustard
Summer 2020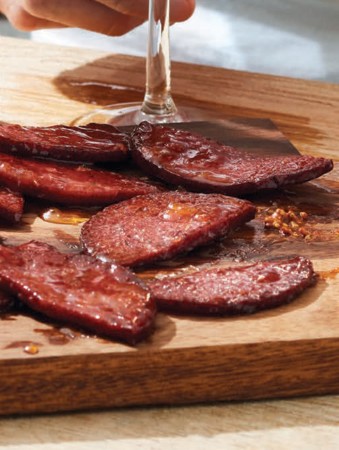 Apricot-Glazed Salami with Spicy Mustard
Summer 2020
BY: Michelle Rabin
This addictive snack takes all of 5 minutes to put together and after putting one in your mouth, it's almost incomprehensible how delicious it is: a perfect play of sweet, savoury and tangy. All beef salami is used here since it is a bit mellower in flavour than pork-based salami, allowing the apricot preserves to shine. Serve this dish with some wet wipes or toothpicks to avoid sticky fingers.
1 tsp (5 mL) olive oil
7 oz (200 g) all beef salami, cut into ¼-inch (5-mm) slices, then cut slices in half into semi-circles.
2 tbsp (30 mL) apricot jam
1 tsp (5 mL) apple cider vinegar 1 tsp (5 mL) cayenne pepper
½ cup (125 mL) grainy Dijon mustard
1 Heat oil in a large pan over medium-high. Place salami slices into pan and cook until they turn bright red and the edges begin to crisp, about 4 minutes, stirring often.
2 Add apricot jam and stir to coat Remove from pan.
3 Stir vinegar and cayenne pepper into mustard and serve alongside salami slices for dipping.
SHARE