Apricot, Plum & Almond Tart
Summer 2019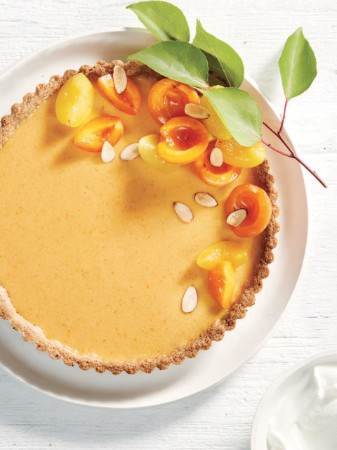 Apricot, Plum & Almond Tart
Summer 2019
BY: Christopher St. Onge
In-season apricots make a delicious curd, but here the crust, flavoured with toasty almonds, shares the spotlight. Choose very ripe apricots for the curd, and slightly firmer ones to decorate. The tart is best the day it's made.
CRUST
1 cup (250 mL) all-purpose flour
¾ cup (175 mL) toasted, unsalted almonds
¼ tsp (1 mL) salt
¼ cup (60 mL) sugar
½ cup (125 mL) cold unsalted butter, 1 stick, cut into chunks
1 egg yolk
1 tbsp (15 mL) cold water

APRICOT CURD
5 ripe medium-size apricots, pitted and roughly chopped
2 tbsp (30 mL) lemon juice
6 egg yolks
½ cup (125 mL) sugar
Pinch salt
6 tbsp (90 mL) cold unsalted butter, cut into chunks
2 to 3 ripe apricots
4 to 5 ripe yellow plums
¼ cup (60 mL) apricot jam
2 tsp (10 mL) Grand Marnier, amaretto or water
1 tbsp (15 mL) sliced almonds
¾ cup (175 mL) whipping cream
2 tbsp (30 mL) icing sugar
1 Preheat oven to 350°F (180°C).

2 Combine flour, almonds, salt and sugar in a food processor; pulse until almonds are finely chopped. Add butter and process until mixture resembles coarse meal.

3 Whisk egg yolk with water. With the motor running, add through feed tube. Tip dough (mixture will be crumbly) into a lightly buttered 8-inch (20-cm) round tart pan with a removable bottom. Press dough into bottom and up sides of pan. Prick all over with a fork and place in freezer for 30 minutes.

4 Line tart with parchment and fill with pie weights (or dried beans). Bake in preheated oven for 20 minutes; remove weights and parchment and bake an additional 10 minutes. Remove to a rack and cool completely.

5 To make curd, add apricots to a blender; purée. Pass through a fine-mesh sieve into a_bowl. Measure out ½ cup (125 mL). Reserve remainder for another purpose if you wish. Combine apricot purée with lemon juice, egg yolks, sugar and salt in a medium saucepan over medium heat. Using a flexible spatula, cook for 6 to 7 minutes or until thickened, stirring constantly and being sure to get into all the corners of the pot. Remove from heat, add butter, and whisk until glossy and combined. Scrape into tart shell and smooth; chill for at least 2 hours (or as long as overnight).

6 To finish, cut apricots and plums in halves and wedges; discard pits. Arrange decoratively over tart.

7 Combine apricot jam with desired liquid in a small pot over medium heat; whisk until liquefied. Brush over fruit; garnish with almond slices and chill 1 hour longer.

8 When ready to serve, beat cream and icing sugar with an electric mixer to medium peaks. Cut tart into 6 wedges and serve each with a dollop of sweetened cream. 
SHARE